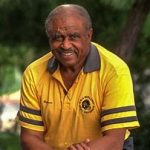 Somebody please tell Tampa Bay Times columnist Tom Jones to go find a history book, and read about Grambling coach Eddie Robinson, and the legacy of black college football.
Jones, speaking with utter ignorance and arrogance, downplayed the accomplishments of Robinson, the legendary coaching icon who sent dozens of men to the NFL, and won 408 games.
Speaking on a radio show about Nick Saban's status as one of the game's great, Jones was incredulous when Robinson's name was mentioned.
"I mean it's Grambling," Jones said. "I don't mean to downgrade…but who did they play?  I love Eddie Robinson, but who did they play? Southern?"
Well, Tom, yes. Grambling did play Southern. They also played  Tennessee State, Jackson State, Florida A&M and other HBCUs.  And, Tom, you know why his teams didn't play LSU and Alabama?  That's because they wouldn't allow blacks in their schools, and weren't about to compete against all black teams with players even they recognized as having scads of unbridled talent.
And, Tom, did you ever consider the black athletes who played for Clemson and Alabama on Monday night would've never been allowed to play there for the majority of Robinson's career? It was a little southern tradition back then called 'segregation.'
That Alabama roster was littered with African-American players, who look just like the students Alabama governor George Wallace stood in defiance of federal law, to keep from enrolling in 1963. That, by the way, happened while Eddie Robinson was coaching, too.
Robinson coached great players against formidable coaches, and teams like Florida A&M's Jake Gathier, and Tennessee State's John Merritt. Those athletes at HBCU schools were every bit as talented for that era, as the young men who were on the field Monday.
In fact, the DNA of every black player in uniform Monday night resides in black college football.
So yes, Tom. Coach Rob only played against Southern.  And, I don't know where you happened to go to school, but if it was somewhere in the south, you were lucky Coach Rob and the G-Men didn't play your school back then. They probably would have given them a beat down
Sorry, Tom, but Eddie Robinson's legacy will stand the test of time. His record stands up against anybody's from any era.
Linked is more on Jones, and the radio link of his comments fromHBCUSSPORTS.COM:
Tom Jones dismisses Eddie Robinson
Comments
comments