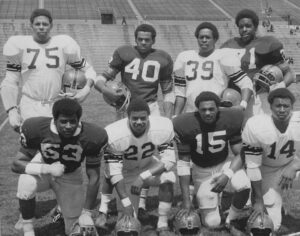 By Rickey Hampton, Editor and Founder of The African-American Athlete
There have been so many unsung heroes over the years as black people have made the improbable journey from slavery to a people who are known to be entitled to justice and equality.  Clearly, as present times illustrate, there is much work to be done.  However, there has been much ground covered, thanks in part to battles fought, big and small, throughout this land.
One such battle occurred in 1970 at Syracuse University.  It is the story of the 'Syracuse 8', which should actually be the 'Syracuse 9'.  Nine members of the Orangemen football team boycotted the entire season.  They were protesting the treatment of black players by the football program.
The day the famous picture of eight of the players was taken, a ninth player was missing because of an injury.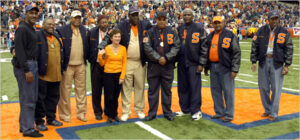 The student-athletes  felt Syracuse coach Floyd 'Ben' Schwartzwalder, who coached the legendary Jim Brown during his career at Syracuse, used discriminatory practices.
The  nine players demanded the football coaching staff become integrated, and that black  players be afforded a fair opportunity to compete for playing time. They also wanted  better medical care, and academic tutorial services.
As a result of their boycott,  Syracuse conducted an investigation.   The report concluded that the player's concerns were justified, and the university promised to address their issues going forward.
The sacrifices of the Syracuse 8 helped make a better environment for future black athletes at Syracuse, which has since that time developed some of the most prominent athletes in college and professional sports, such as basketball NBA star Carmelo Anthony, and Donavan McNabb, the former NFL Pro-Bowl quarterback.
The names and graduation class of the Syracuse 8 (Plus 1) are: Gregory Allen '72, Richard Bulls '73, John Godbolt '73, Dana Harrell '71, G73, John Lobon 9'73, Clarence "Bucky" McGill '72, A. Alif Muhammad '71, Duane Walker '80 and Ron Womack '71.
Comments
comments