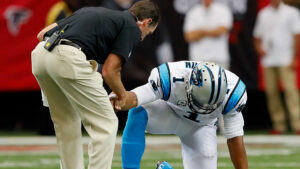 By Tim Turner, For The AfricanAmericanAthlete.com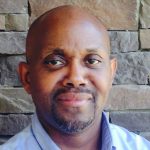 After seeing Cam Newton, in body, go through the motions sans sense on a last-gasp drive against the New Orleans Saints in last Sunday's Wild Card playoff game, there is only one conclusion that can be made:
Somebody is just going to have to die.
I initially thought, after that sketchy intentional grounding call, then balled into a fetal position on a sack, that he quit. Given what happened to him leading up to that drive, it was clear the only thing that quit on that drive was Newton's ability to collect his thoughts. He'd taken a massive hit from the Saints' David Onyemata during the fourth, and as he headed to the sidelines, he took a knee and was checked out by medical staff.
He went into the tent to be checked out and he sat out a play before finishing the series and the game, a 31-26 loss.
Sure, Newton may have been poked in the eye, as was the convenient story by everybody associated with the Panthers. But that still doesn't square with the eye test by everybody else that the star QB, who virtually single-handedly kept the Panthers in the game, was, um, woozy.
Not a first time for Carolina. The Panthers were investigated once before in the 2016 season opener at Denver when Newton took a blow to the head but remained in the game.
We've seen it before this year. On Nov. 9, referee Walt Anderson sent Russell Wilson off the field after a solid hit to the chin during Seattle's game against Arizona. The Seahawks were found to have violated concussion protocol and was fined $100,000. It was a big deal because Wilson came back and made a Houdini play, scrambling and getting off a 20-yard pass that found Doug Baldwin for a 45-yard play that was key in a 22-16 win.
And no one can forget seeing Tom Savage, Houston's quarterback, convulsing on the field after a second-quarter hit in the Texans' 26-16 loss to the San Francisco 49ers on Dec. 10. He was helped to the sidelines, but was allowed to come back into the game. It was only after head coach Bill O'Brien asked medical staff to check him again that it was determined that Savage was indeed concussed.
What's so head scratching is the seemingly amorphous concussion protocol was changed after the Savage hit to add an expert watching games from a central location who can reach sideline medical teams to examine players. And if a player behaves similarly to symptoms that Savage exhibited they must leave the game and are done for the day.
Because of the protocols seemingly arbitrary application, who knows what it will take to get some kind of uniform standard passed. After a hit, should a guy be yanked from a game simply because he stumbles after a tackle? Or do you wait until a player jumps up and runs into the other team's huddle? Do they scrutinize every play or wait longer until a guy's bell is rung so loudly everyone — with or without a medical background — can assess it.
There may not be an easy answer, but it sure isn't what has been employed this season. With only the playoffs left you wonder if the magnitude of the games will be freighted with deference to the dollar when assessing injuries of star players. One hopes not, but with the way regular season games were handled, you can't help but wonder what if. 
Comments
comments