Notice
: Undefined offset: 1 in
/var/www/wp-content/themes/jnews/class/ContentTag.php
on line
86
Notice
: Undefined offset: 1 in
/var/www/wp-content/themes/jnews/class/ContentTag.php
on line
86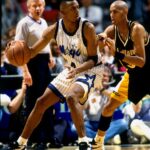 By Rickey Hampton, Editor and Founder of TheAfricanAmericanAthlete.com
(Editors note: On Monday Hardaway officially announced that he will become the next head coach at Memphis University.)
 It's official now. Anfernee 'Penny' Hardaway will be replacing Tubby Smith as the head men's basketball coach at the University of  Memphis.  Of course, the 6-foot-7 Hardaway was a wunderkind at Memphis State University (1991-93), before heading to the National Basketball Association.
When it comes to pure talent and basketball IQ, former NBA star Anfernee 'Penny' Hardaway takes a back seat to no one.  Not Michael, LeBron, Kobe, Dr. J., or anyone else you want to put out there.
Playing the guard position, Hardaway was a gifted passer and scorer, with incredible athleticism, and a basketball IQ that was off the charts.
Hardaway was taken with the No. 3 pick in the 1993 draft, and then was promptly traded to Orlando where he teamed up with Shaquille O'Neal. The two quickly formed one of the most formidable duos in the league, and in just his second season Magic made it to the NBA Finals.
However, in 1997 Hardaway tore his ACL. He was never the same.
The medical technology that exists now and allows players to make remarkable recoveries, simply wasn't available at that time. Hardaway would go on to have a total of six surgeries. He played a total of 14 seasons with Phoenix, New York and Toronto, and never came close to approaching his level of play before the injury.
Here is hoping Hardaway gets the job. I will be cheering for him to bring the a new magic to the Memphis program he did as a player, as a coach.
Comments
comments