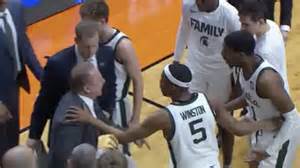 By Rickey Hampton, Editor and Founder of  TheAfricanAmericanAthlete.com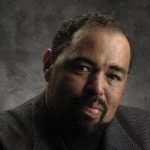 I got a question.
What if Michigan State University point guard Cassius Winston did not restrain coach Tom Izzo when he got in the face of MSU freshman Aaron Henry during last week's opening round game of the NCAA tournament against Bradley?
Would Izzo have struck Henry? What if Henry felt threaten by Izzo, who was enraged, decided to defend himself and struck Izzo?
On two occasions Winston, once with the help of teammate Matt McQuaid, thought they needed to restrain Izzo from going after Henry.
Thank goodness, they did. Because what was an ugly scene could've gotten uglier.
Here in the Detroit area, there have been in a lot of conversations regarding Izzo and Aaron.
It is an important conversation that should be had because it goes far beyond this one incident with Izzo, and speaks to today's coach and player relationship. On the college level, the head coach has full autonomy over players. Some of them abuse that power, Tom Izzo does not.
Full disclosure: I know Izzo well. I covered him and his teams for many years during my career as a sports writer. He is a good man and a good coach. He has used his fame, wealth and stature to support many good works throughout the state of Michigan and beyond.
He is a tough, demanding, hard-nosed, coach, who has built a hall of fame career in East Lansing. I honestly believe he meant Henry no ill-will.
Nonetheless, when you go after a kid with the hostility Izzo did, you wonder what is on his mind?
His players saw it. That's why they stepped in. Anytime you have to be restrained (twice) by one of your players for going after another player, you have gone too far.
This incident doesn't make Izzo a monster, nor should it even be a blip on his legacy.  
But it was a mistake, and let's be glad that Winston and McQuaid stepped in before it go worse.
Izzo can make mistakes during games just like his players. And his $4 million dollar salary _ built of the play of MSU greats like Mateen Cleaves, Charlie Bell, Draymond Green, Mo Peterson just to name a few _ demands that he conducts himself with great accountability.
In this case, he didn't.
I see this situation both ways. I totally understand why people are upset about his actions. I also understand why those who know him and or familiar with him, stand by him.
Tom Izzo made a mistake in the way he handled Aaron Henry. Here is hoping that other college coaches, regardless of their sport, will note when they are trying to admonish a player, or simply going too far.
Comments
comments