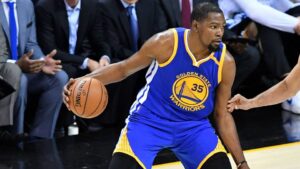 By Rickey Hampton, Editor and Founder of The African-American Athlete
In a few days, maybe Friday, Golden State's Kevin Durant is going to win his first NBA championship, and also be named the Most Valuable Player of the 2017 NBA Finals.
Durant has been the difference in the series with the defending champion Cleveland Cavaliers. He did it again Wednesday night with a pair of clutch 3-pointers as the Warriors ended the game on an 11-0 run to beat the Cavs, 118-113, and take a commanding 3-0 lead.
The Warriors would not be up 3-0 if Harrison Barnes was still in that spot that Durant now occupies.
People can hate on Durant for leaving Oklahoma City, and joining the Warriors, the team that knocked him out of the playoffs season.
I keep hearing people say Durant took the easy way out. He absolutely, did. However, I never hear people say he took the smart way out.
Durant joined a team that won an NBA record 73 games the year before, and if not for a remarkable performance by LeBron James, they would have captured their second consecutive NBA title.
Now, surrounded by snipers such as Kevin Durant, Steph Curry and Klay Thompson, he is in the perfect spot. And, he got $54 million to do it.
I know there are people who don't like Durant taking the easy way, or didn't like LeBron James leaving for Miami. They want to romanticize that back in the day guys stuck it out with their teams, come hell or high water.  But I assure you, if there was free agency back in the day, guys would be looking to put themselves in better situations, and make as much cash as possible.
Professional athletes are loyal to their game checks, first and foremost. We use Michael Jordan as the standard barer for all excellence in what is the NBA.
Well, Jordan left Chicago to go to Washington. Where was his allegiance to the team that he won six titles with? He was the king of Chicago.  However, he found a better situation in Washington and went for it.
Now, please don't say but that was different. How was it different?  He played two seasons for the Wizards.  He was still trying to win, right?  We know MJ is the ultimate competitor, right?  Why didn't he try to win again in Chicago?
He found a better opportunity. Just like James did when he left, and came back to Cleveland.  Just like KD did with the Warriors.
That's what professional athletes do. What we often fail to understand is this game is a business, first. The franchise is always going to do what is best for the franchise. Their allegiance is the owner. The players come and go. They are merely pieces, some more valuable than others. And when their value declines, they are gone.
That is why players have to do what is best for them.
Yes, KD took the easy way out. Now he is on the cusp of an NBA title and a Finals MVP award.
And 20-years from now all people will see is that he was an MVP for the champion Warriors. And, 20 years from now he may be finished counting that $54 million he got for making his life easier.
Comments
comments