http://www.flickr.com/photos/27003603@N00/11975591604
By Michael Roberson, For The African-American Athlete
Sharpshooter Walter Ray Allen Jr. officially retired (Nov. 1, 2016) 20 years after entering the National Basketball Association, although he only played 18 of them.
Allen will go down as one of the greatest shooters in NBA history, as well as most favored Association Alumni.
This writer had the pleasure/fortune to witness Ray's introduction into the highest level of Hoop, Live and First Hand, during his initial years in Milwaukee.
Walter was born 41 years ago in Merced, CA, on an Air Force base.  Being a military "brat," he and his family relocated a lot around the country and overseas.
By the time Ray reached high school, the Allens were residing in South Carolina, where he starred and won a state championship for the City of Dalzell's Hillcrest High.
Allen traveled north to Storrs, CT to begin his All-American college career as a UConn Husky.  Over his three-year matriculation in the Nutmeg State, Ray amassed numerous awards nationally (NCAA), as well as conference (Big East) wise.

He also showed his 3-point stroking prowess, by setting a school/team record 115 from beyond the arc his last year at Connecticut.  The NBA was obviously next on his trek to greatness.
During the 1996 NBA Draft–considered one of the greatest by many–Walter was selected 5th overall by the Minnesota Timberwolves, but was immediately traded to the Milwaukee Bucks for the apparently disgruntled #4 pick and enigmatic, Stephon Marbury.

Allen was an instant hit in the "Brew City" and eventually helped the Bucks become an Eastern Conference power.
During his time in S.E. Wisconsin, Ray was All-Rookie 2nd Team, All Star, 3-Point contestant/winner, All-NBA 3rd Team, and an Olympic Gold medalist in Sydney 2000.
The Cream City Deer had a two-year window (1999-2001) when they were a legitimate championship contender, alongside Glenn "Big Dog" Robinson, Sam Cassell and Tim Thomas.
They lost a hard fought five-game Eastern Conference series against the Indiana Pacers, who happened to make it to that year's (2000) Finals with the Lakers.  The next season was a seven game Eastern Conference Finals versus the Philadelphia 76ers, who also faced the aforementioned defending champion LA Lakers.
The Bucks had ample opportunities to win the 2001 ECF, including a near game-winning tip dunk by Allen in Game 5, but it wasn't meant to be.
Also during Ray's stay in the Dairy State, he became a movie star in the Spike Lee film (1998), "He Got Game," and co-starred with the Academy Award winning cinema megastar, Denzel Washington.

Allen portrayed the character, Jesus Shuttlesworth, a Brooklyn (Coney Island), NY prep superstar dealing with off court issues and pressures, as well as on court competition.

Ironically, or maybe even coincidentally, Stephon Marbury actually and realistically fit that description, possibly being replaced again by Ray Allen to perform in a big role.
Proof that nothing lasts forever, Allen was dealt from the Midwest to the Northwest during the 2002-'03 season, while Gary Payton and Desmond Mason relocated east to the shores of Lake Michigan.
While in the "Emerald City," his scoring average increased exponentially, and the then Seattle Sonics did well, but nothing near a championship victory.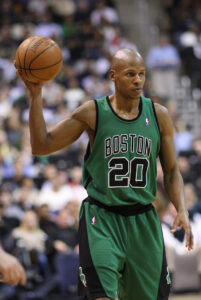 During the Summer of 2007 the Sonics traded Ray to the Boston Celtics, and he joined up with new arrival Kevin Garnett–to whom he was supposed to be a teammate of after the '96 draft–and longtime Celtic, Paul Pierce, to form the 2007-'08 version of "The Big 3."
Within the initial campaign together, the veteran trio all got a chance to taste the champagne, as the Celts defeated their longtime rival, the Los Angeles Lakers in the 2008 NBA Finals.
Two years later both teams met up again for a Finals rematch, but this time the Lakers won in seven games.
In 2012 Walter took his talents to South Beach and joined the defending champion Miami Heat, with their own Big 3 (LBJ, D-Wade & CB4).  That season culminated with his new team winning back to back titles, partly due to the biggest shot of his career/life!

The following season the Heat lost to the Spurs in the 2014 NBA Finals, which subsequently became Allen's last game and season.
Despite rumors that he would follow LeBron James to Cleveland or join the 3-point happy Golden State Warriors, Ray decided to end his great run after two years of basketball limbo.
Walter managed to become the All-Time 3-Point shooter in NBA history, win two championships, a gold medal, and be a theatrical cult hero during his successful 18-year pro basketball career.
His charisma will not be forgotten either, and will probably keep him nearly as popular post-Association.
Photo by Keith Allison

Comments
comments