Notice
: Undefined offset: 1 in
/var/www/wp-content/themes/jnews/class/ContentTag.php
on line
86
Notice
: Undefined offset: 1 in
/var/www/wp-content/themes/jnews/class/ContentTag.php
on line
86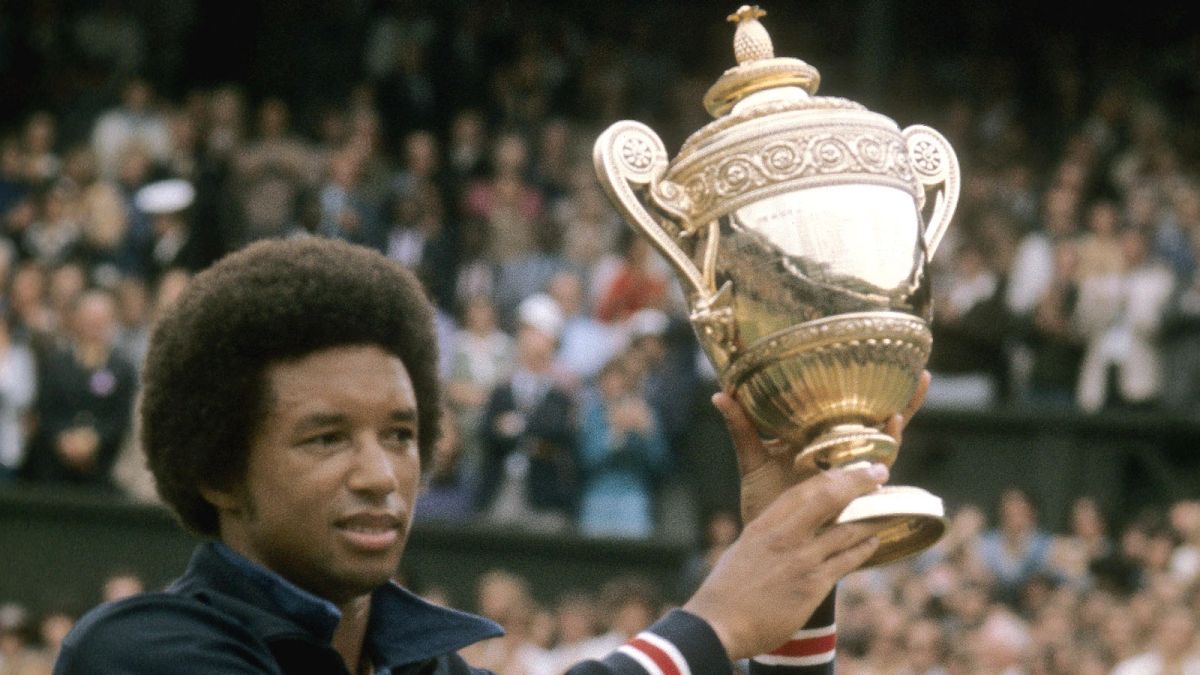 By Sope Eweje, For The African-American Athlete
"Start where you are. Use what you have. Do what you can."
[dropcap font="arial"]A[/dropcap]rthur Ashe embodied these words. The late tennis star and passionate humanitarian from humble beginnings took advantage of every opportunity he was offered during his rise to tennis immortality, both for self-improvement and to come to the aid of others. Although he was taken from us far too soon, he left a lasting impact upon not only the game of tennis but also our country, and the entire world.
Arthur Robert Ashe Jr. was born July 10th, 1943, in Richmond, Virginia. At the time of his birth, the state was still highly segregated, highlighted by the fact he grew up in a house adjacent to a large blacks-only playground at which his father worked. From a very young age, Arthur was an avid student and tennis player but it was not until 1950, when he met Ronald Charity (one of the best black tennis players in the country), that his prowess in the sport truly developed. From 1953, when he started working with renowned tennis coach Dr. Charles Johnson, until began college at UCLA on a tennis scholarship, Ashe won various youth tennis tournaments around the country while becoming the first African-American to win (or in some cases even participate) in many competitions.
Soon after starting at UCLA, Ashe was named as the African-American player on the U.S. Davis Cup Team. He helped the U.S. to multiple titles in this tournament over his career, and also led UCLA to an NCAA tennis championship. After graduating in 1966, Ashe spent 2 years as an Army officer while continuing to play tennis. At this point, Arthur Ashe was an internationally-recognized tennis star ranked #1 in the US with many tournament wins, including the US Open, under his belt. Despite this fact, when in 1969 he applied for a visa to compete in the South African Open, he was denied due to the country's policy of Apartheid.
After having a heart attack in 1979 and experiencing continued health issues after surgery, Ashe decided to retire in 1980 at the top of the game; he amassed 51 titles over his illustrious tennis career. With his newfound time, he was able to dedicate himself to various humanitarian causes. Ashe was most focused on working to end Apartheid, making multiple trips to South Africa to witness the injustice firsthand, befriending Nelson Mandela, and even getting arrested at anti-Apartheid rallies in the United States. He was an active civil rights advocate for African-Americans, and even protested in the early 1990's when the US failed to properly aid many Haitian refugees. In 1988, he published 'A Hard Road to Glory: A History of the African-American Athlete', which documented the persistence and heroism of black athletes in the face of racism and discrimination.
That same year, Ashe learned that he had contracted HIV as a result of a bad blood transfusion he received during a surgery he had in 1983; 5 years later, he died of AIDS-related pneumonia. His memory has been kept alive by the various foundations formed prior to and after his death, including the Arthur Ashe Institute for Urban Health, which was dedicated to providing adequate healthcare to minority communities in urban areas. On what would've been his 53rd birthday in 1996, a statue of Arthur Ashe was dedicated in his hometown of Richmond. Fittingly enough, the statue was erected in a place that as a child he would not have been able to go due the city's segregationist policies, a testament to his presence as a figure that transcended race and helped to bring this country forward in term of social justice and equality.
[quote]
Arthur Ashe's legacy is one of diligence and unwavering resolve towards achieving what he wanted to see for himself and for the world. He showed a willingness to speak up for what was right, and support those words with actions. He worked passionately combat issues that affected him personally, such as cardiac health and AIDS prevention, and found ways to utilize that passion to the benefit of others.
We can all learn something from the legacy of Arthur Ashe.
[/quote]
It's important in today's society that we consciously choose to take every chance to speak up for those without a voice, to ensure that our country's progress towards achieving true racial equality over the last decades is not lost.
"Start where you are. Use what you have. Do what you can."
(Sope Eweje, hails from North Carolina, where basketball is king. He is a student at MIT, and is studying bio-mechanical engineering. You can contact him on Facebook (Basically Basketball) and Twitter (@basicallybball).)
Comments
comments