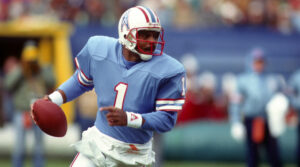 If you are a fan of professional football, and interested in learning the history of the African-American quarterback, check out'The Big Book Of Black Quarterbacks,'by Deadspin's Greg Howard.
Mr. Howard took his research all the way back to the very beginning, and brought it forward to today in his effort to create an exhaustive list of black quarterbacks in professional football.
Many of us know the black quarterbacks of the recent years. Michael Vick, Steve McNair, Donavan McNabb, Randall Cunningham, and others. However, there are a long list of other black men who played the position, such as Fritz Pollard in the 1920s.
By Mr. Howard's admission, the list is not complete, and with good reason. You can bet there weren't too many white folks back in the day concerned about black quarterbacks, or even the fact that they would ever make any history.
Not included on the list are men like Fisk University's J.J. Jones, who played a year with the New York Jets in 1975, and even started a game when Joe Namath was injured. Jones, along with Tennessee State University's Gilbert Renfro who had stints in Atlanta and Minnesota. Another TSU star, Brian Ransom, played two years behind Warren Moon with the Houston Oilers. The Oilers were the first team with two black quarterbacks on the roster.
All of these men are a part of the journey of the black quarterback, that paved the way for the superstars of today, like Carolina's Cam Newton, and Seattle's Russell Wilson.  Read: The Big Black Book Of Black Quarterbacks.
Comments
comments