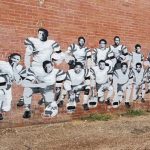 Join us Tuesday at 10 p.m. EST for TheAfricanAmericanAthlete.com talk show. Our guest will be Jay Berry, the former Wyoming University football player, who was part of the 'Black 14'. 
In 1969 14 black players on the Wyoming football team were kicked off the squad for merely asking head coach Lloyd Eaton about the possibility of wearing black armbands during an upcoming game with Brigham Young University. The players wanted to protest the Mormom church policy that discriminated against blacks.
Their plight was recently featured on ESPN and in the documentary, 'The Black 14'. To listen to the show on your cellphone call 917-889-3271. To listen online: http://tobtr.com/s/10660213.
Comments
comments