Notice
: Undefined offset: 1 in
/var/www/wp-content/themes/jnews/class/ContentTag.php
on line
86
Notice
: Undefined offset: 1 in
/var/www/wp-content/themes/jnews/class/ContentTag.php
on line
86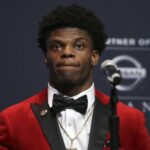 By Maury Jackson, For TheAfricanAmericanAthlete.com
[dropcap]D[/dropcap]uring the recent NFL Combine all the talk has been about who will go No. 1 in the upcoming NFL draft.
Certainly, Saquon Barkley's brilliant performance in front of the scouts has definitely been noteworthy, but the main talk is which of the four quarterbacks will go first.
Of those four quarterbacks, Heisman Trophy Winner and former Louisville sensation, Lamar Jackson, is not included.
Everyone knows Lamar Jackson has things to work on when it comes to throwing the ball, but the way he is being bypassed by all of these other quarterbacks so easily is mindblowing.
Sam Darnold, Josh Rosen, Baker Mayfield, and Josh Allen are all considered to be the top four quarterbacks in the draft, but none of them have separated themselves from the pack. Each one of these quarterbacks has their own flaws on the field, and negative things were said about them in interviews, from Allen and Darnold being turnover prone, to Mayfield and Rosen being a little too cocky.
However, none of these things are being said about Lamar Jackson. But you do get, "Lamar Jackson isn't big, and he is way too thin." These are ways that analysts downplay his potential at the next level, despite measuring out at 6-foot-3 and 216 lbs.
While 6-5 may be prototypical quarterback height, 6-3 is right at the average mark for NFL QBs. If Lamar can be held back for his size, why does Mayfield get the pass to be considered the next Drew Brees?
Darnold has thrown 22 interceptions in two years at USC, while Lamar has only thrown 19 INTs the last two years. Darnold threw a 63 percent completion this past season, while Lamar threw at 59 percent.
Those numbers are quite comprable, yet Jackson is not even considered in the top four. I contend that Lamar Jackson is not as far behind this group in terms of passing ability as people make it out to be.
His productivity at U of L is off the charts, even with a lackluster offensive line and lack of talent at wideout. In addition, Lamar is so far ahead of all of these quarterbacks athletically that is not even close. There are those who claim he has Michael Vick and Deion Sanders speed.
Lastly, teams had the audacity to ask him to try out as a WR. They have simply dismissed Lamar Jackson as a QB simply because he is a speedy thin quarterback, who likes to run.
While it is true that it can be a risk to rely on a run-heavy QB, because injuries of quarterbacks have happened in recent years, regardless of how much they run.
But what plagued the career of RGIII is that he stopped using his ability to run and therefore lost overall confidence in his quarterback ability.
With injuries to quarterbacks like Aaron Rodgers, Ryan Tannehill, and Carson Palmer, I'm not so sure a quarterback who likes to run a lot correlates to a high chance of injury.
All in all, Lamar Jackson is a quality quarterback who has shown he can get it done on the big stages. At this point in life, he has accomplished so much, but remains even hungrier to prove all the doubters wrong.
It is hard to argue that Jackson should be the No. 1 pick, but to dismiss him and not put him in consideration with the rest of the QBs in this draft class is ridiculous.
Comments
comments