Notice
: Undefined offset: 1 in
/var/www/wp-content/themes/jnews/class/ContentTag.php
on line
86
Notice
: Undefined offset: 1 in
/var/www/wp-content/themes/jnews/class/ContentTag.php
on line
86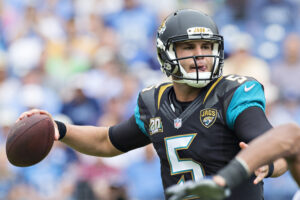 By Maury Jackson, For The African-American Athlete
With Colin Kaepernick still out on the market, this is more than an athlete being punished for standing up for civil rights. Much like a divided nation, the NFL is definitely a divided league.
There's the front office, team owners, general managers, coaches, coordinators, and then there's the players. There is certainly a lack in African-American NFL coaches and front office people, which reflects on the lack of opportunities given.
The NFL is continues to be controlled, and completely ruled, by the higher ups. The stand Kaepernick is making and the direct result of it is not only questionable, but considered by many as racism within the NFL.
What the NFL wants are guys solely committed to football, with no life besides football, and no one cares for them when they are finished.
Unless you have the all-pro talent of someone like the Giants' Odell Beckham Jr., you can lose your job just by going against the NFL's wishes.
Consider that Kaepernick has not had any run-ins with law, any major locker room problems, and no outlandish personal issues. He has led a team (49ers) to multiple NFC championship games, and a Super Bowl. For a team to have not picked him up by now is flat-out ridiculous.
Sure, Kaepernick is not a Hall of Fame talent QB, nor is he not the talent he was a few years ago.
However, he certainly has the ability to produce as a starting quarterback in today's league. Quarterbacks like Jaguars' Blake Bortles and Rams' Jared Goff are getting opportunities to start, while Kaepernick can't even get signed into a backup role.
This is more than just a guy speaking out on social rights, and being blackballed because of that. This is a message that NFL owners are trying to send to players telling them to stay in their lane.
Kaepernick played decent for the 49ers' in Chip Kelly's system last year, with a 16-4 touchdown-interception ratio. But that was far better than many quarterbacks who are with teams today. Franchises like the Jets would rather have less talent at the QB, than Kaepernick,  a solid starter and winner, who just happened to make a stand for justice.
Hopefully, Kaepernick will be signed somewhere in the near future. In the meantime the takeaway from this all is that the NFL is in a state nothing short of a 'Trump America'.
Comments
comments