Notice
: Undefined offset: 1 in
/var/www/wp-content/themes/jnews/class/ContentTag.php
on line
86
Notice
: Undefined offset: 1 in
/var/www/wp-content/themes/jnews/class/ContentTag.php
on line
86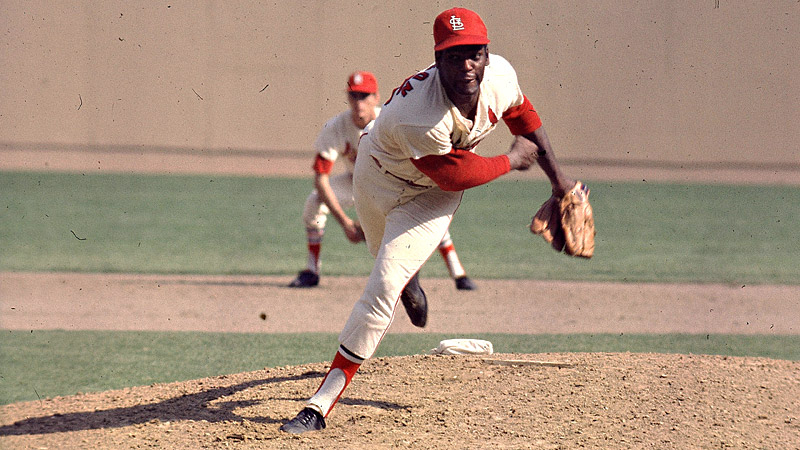 By Rickey Hampton, Editor and Founder of The African-American Athlete
[dropcap]T[/dropcap]o say that for much of his hall of fame career with the St. Louis Cardinals Bob Gibson was misunderstood is a drastic understatement. Teammates didn't know what to make of him, and the practically all white media corps mistook his intensity, determination and perseverance as a black man in a racist society, for being angry black man.
Gibson had a reputation for throwing at batters, being aloof with reporters, challenging his teammates, and staring down opponents. Gibson really didn't care what people thought.
"I hear all of these wild stories about the way people saw me, and the things that I did," Gibson, who is 81, explained in the 2016 documentary film, 'Fastball'. "I heard that I always threw at people. Well, the people I threw at, I hit. I never threw at a guy and not hit him."
"The intimidating factor is I think it is the way I looked, period," Gibson said. "I think one of the reasons they viewed me as this ogre is because I was the black kid.  White kids did the same thing, and nobody even thought about it, but I did it and I'm this monster.  But that wasn't going to hold me back, because I was who I was."
Gibson was one of the best pitchers ever.  In 1968 he set the gold standard for pitching.  He went 22-9, with a stunning 1.12 ERA.  He recorded 13 shutouts, and 28 complete games.  He was named the National League MVP and Cy Young winner, and he struck out 17 batters in Game 1 of the 1968 World Series against the Detroit Tigers.
What many didn't understand was that for all the respect Gibson earned on the field for his brilliant skills, he had to work even harder off the field to be respected as a man.  And, yes, there were times when that did make him angry.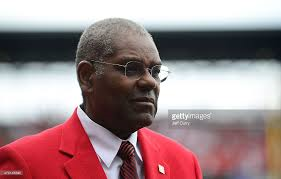 "Anger came from racism, of course it did," said Gibson, in 'Fastball'.  "Racism was a way of life. It was stuff I had to deal with on a day to day basis. I didn't ever once and a while go somewhere and there it was."
"It was there, and it followed me all the way through my childhood, and not just through my childhood but through the first part of my major league career.  That fueled a lot of the anger that I suppose I projected.  All I know is how I felt.  I felt I had to be better in order to get just as far, and I was determined to do that."
Actually, it was racism that nearly pushed Gibson away from baseball before he barely got started. The baseball coach at Gibson's high school in his hometown of Omaha, Neb., didn't want black players on the roster.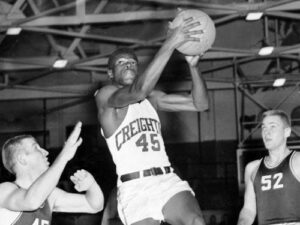 Gibson, a superb athlete, turned to basketball, and went on to become one of the finest players in the state of Omaha. He would go on to average 20 points per game in college at Creighton University. He graduated in 1957, and the NBA's Minneapolis Lakers were interested in signing him.  He actually played a season with the Harlem Globetrotters.
There is a sense of irony knowing that Gibson chose baseball over basketball. In the '50s baseball was the No. 1 sport in black communities.  There was Jackie Robinson in the Majors, and the litany of stars in the Negro League. Today, it is just the opposite for black kids, who often choose basketball and football over baseball. For opening day of the 2017 season blacks comprised only seven percent of players on MLB rosters.
Gibson's early days as a professional were a struggle, as he again dealt with the racism of the day. His manager, Solly Hemus, was a racist who didn't want black players.  Hemus told Gibson and Curt Flood they would never become major leaguers.
Of course, that goes to show how much Hemus knew about baseball.  Both men went on to be stars, and Flood challenged the free agency system that eventually changed the game forever.
Once the Cardinals got rid of Hemus in 1961, Gibson took off.  From that date until his retirement in 1974, he was among the best pitchers in the game. In 1968 he had the greatest season of any major league pitcher. Gibson went 22-9, and had an incredible ERA of 1.12. That is still the gold standard among pitchers. In the 1968 World Series opener against the Tigers, he struck out 17 batters. That is still a record.
Comments
comments