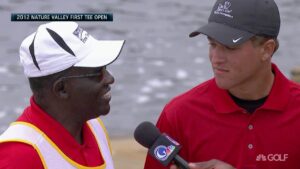 Congratulations are in order for Texas A&M's Cameron Champ, who recently became the world's No. 1 ranked amateur golfer.
Champ, 22, is a rising senior for the Aggies. He  exploded on the world golf in June at the U.S. Open, where he was in the hunt for the title. Champ was 4-under par through the first three rounds, before fading to a 4-over-par 76 on the final day.
Nonetheless, his even-par score of 288, and his explosive driver _ he out drove Rory McIlroy by 30 yards in a practice round and had a 349-yard drive during the event_ impressed many.
Champ, is the son of black father and white mother. He was introduced to the sport by his paternal grandfather, Mack, when he was only 2-years-old.  As a junior player, he was the No. 1 ranked player in California, and a two-time member of the Rolex Jr. All-American team.
During his  2017 season at Texas A&M, Champ established himself as one of the country's best college players. He was a finalist for the prestigious Jack Nicklaus Player of the Year. Check out the video link of Cameron and his grandfather from the Golf Channel in 2012.  
Comments
comments