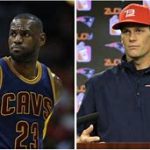 By Maury Jackson, For TheAfricanAmericanAthlete.com
New England Patriots' quarterback Tom Brady was superb in Super Bowl LII. The  40-year-old threw for 500-yards against the Philadelphia Eagles. Only a late game fumble cost Brady his chance at a sixth ring. With comparisons to Michael Jordan as the greatest ever at his sport,  a sixth ring would have made the argument so much more compelling. With a 5-3 Super Bowl record, this now shows exactly how unblemished Michael Jordan was.
Tom Brady seems to have the ability to play for at least another two or three years and will likely contend for the Super Bowl each year.
Now, whether you like Tom Brady and where he stands personally, politically, or socially, there is no denying the fact of how great of a player he is.
However, despite comparisons to Michael Jordan, perhaps the most appropriate comparison may be to LeBron James.
It is no secret how disappointing the Cavaliers have been so far this season before the trades. And with all of the talk of how bad they are, they still third in the Eastern Conference standings. LeBron averaged 33 points, 10rebounds, and 12 assists in the NBA Finals last year against Golden State, but much like Tom Brady, loss is what will be remembered most.
Brady and LeBron have been the greatest at their respective sports over the past decade, and both are ridiculed for championship losses, although Lebron 3-5 Finals record is much more ostracized. But for many, Tom Brady is repeatedly talked about as rivaling Joe Montana as the greatest quarterback ever, while the same goes for LeBron (although Tom Brady is a lot further in this stage of his career).
Both men have continued to perform at peak levels as they have gotten older, and both continuously find themselves getting to the title game. Brady has been to eight  Super Bowls and 12 total Conference championships since 2001. Lebron has been to seven consecutive NBA finals and 10 Conference Finals in his career.
The peak domination of these two were not as good as Montana or Jordan's, but the consistent achievement and longevity of the two can create a serious conversation 10 years from now.
What makes these two even more similar is their continued success despite consistent changing of teammates and situations. Time after time, season after season, no matter who is on their team, or the events that occur during the season, Brady and LeBron always find a way to make a deep postseason runs.
Their ability to beat the teams they are supposed beat each and every year is very underappreciated.
In the MLB, March Madness, and College Football, there have been upsets over the past years prior to the title game, even for powerhouses like Alabama in football. Whenever Tom Brady or LeBron James are significantly favored to win, they usually come through. You do not hear Tom Brady and the Patriots being upset in the Wild Card. You also do not hear LeBron James being ousted in the second round of the playoffs.
Their ability to consistently meet expectations is what makes them so great.
Many consider the Eastern Conference in the NBA and AFC in the NFL to be the weaker conferences in these respective sports, but why do you think that is the case? The Western Conference and NFC certainly have more superstar talent, but that doesn't necessarily mean the Pats and Cavs wouldn't be as good in those conferences. Star players would much rather wait until the Finals to face either of these two. Players aren't begging to face Lebron James and Tom Brady early in the playoffs.
Although you can point to the Patriots organization and a Hall of Fame coach as primary reasons for Brady's success, the best accurate comparison of him to another player in sports is LeBron James. In many ways, their great careers have followed similar paths.
Comments
comments