Notice
: Undefined offset: 1 in
/var/www/wp-content/themes/jnews/class/ContentTag.php
on line
86
Notice
: Undefined offset: 1 in
/var/www/wp-content/themes/jnews/class/ContentTag.php
on line
86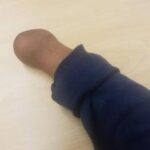 By Shaquille Hill, For TheAfricanAmericanAthlete.com
[dropcap]M[/dropcap]any people on here probably know this story. So bare with me, or disregard. As you wish. It's a long read.
For those of you who don't know, I am an amputee. I lost my right hand as an infant. The amputation came as a result of a medical malpractice – the wrist band that was placed on my hand too tightly, cutting off circulation.

Growing up, I got a lot of questions about my amputation. The reaction was funny to me. Adults have always seemed uneasy talking about my amputation, while kids seem to be more open minded. I think adults assumed that because I was "different" that I didn't want to talk about the amputation.
Kids don't really seem to care to be honest. That's the reason I feel that it's easier to discuss controversial issues – especially race and "disabilities."

Note the quotes around the words around the word disability. From my personal experience, I've never felt disabled, because there isn't anything that I have been able to not do.
Typing – I'm on computer as we speak lol – to playing sports – anyone who knows me knows I'm a huge basketball and football fan – to attempting to jump rope.
I was a manager for my junior and senior year at Southwestern. I never played in a game, but I definitely practiced. I don't want it easy either.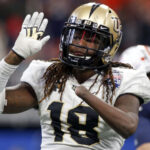 Fast foward to today. As some of my fellow football fans know, Shaquem Griffin of Central Florida, a one handed player who became a star at UCF in his last year, performed very well at the NFL combine this past weekend. His sotry brought me back to my childhood.

My father always said he wanted me to be the best one handed football or basketball player out. I always thought, "All due respect sir, but I want to be the best. PERIOD."

The football fields and basketball courts don't change because of my amputation, so why would my game? My mentality doesn't either. Even if I take on a Kevin Durant or LeBron James. I mean that, man.

I am happy for Shaquem, but I can't help but think that many will focus more on his amputation rather than his talent.
That has always bothered me about the perception of amputees and people with disabilities in general: not the physical limitations that are set – I personally don't have any – but the fact that people are somehow shocked that we do what we do. Which is living our lives.

As an amputee, I hope people focus on Shaquem's talent and work ethic, and not just his amputation just for emotional leadership and effort. Inspiration is great, but so is talent.
His story his great, but his talent is better.
I know a lot people that have said they find me story inspirational. I don't see it that way. I just live. I do me. I play ball. I play video games. I played tennis for PE in high school. And every other thing everyone else does.
It may be a shock to you, but for me it's just life. No need for a parade. I don't see it as inspirational. I just live. All I can do.

For those who may feel bad. Don't. Like Drake says, it's 'God's Plan': "They gon' tell the story, it's different with me. I've always been in my own lane. Lord Willing, I'm  in it for a long time."
Comments
comments