Notice
: Undefined offset: 1 in
/var/www/wp-content/themes/jnews/class/ContentTag.php
on line
86
Notice
: Undefined offset: 1 in
/var/www/wp-content/themes/jnews/class/ContentTag.php
on line
86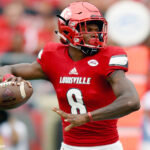 By Tim Turner, For TheAfricanAmericanAthlete.com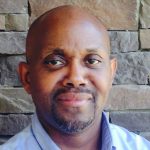 No one asked Steve Young to play tight end. No one asked Fran Tarkenton to give running back a shot. But there are NFL teams who want Lamar Jackson, the 2016 Heisman Trophy-winning quarterback, to consider playing receiver on the next level. Jackson's response:
Forget that.
Well, those were not his exact words. The 6-2, 216-pound junior from Pompano Beach, Fla., was unfailingly courteous during his interview session at the recent NFL Scouting combine in Indianapolis. He won the room with charm and confidence. From the podium, he was everything a team could want from a guy you want to lead your team.
He's more than proven himself. He threw for 3660 yards, 27 touchdowns and 10 interceptions last season. Those numbers that capped a career where he threw for 9043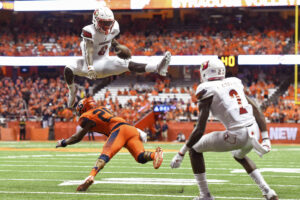 yards, 69 touchdowns and 27 interceptions. He followed his 2016 Heisman season by winning for a second consecutive season ACC Offensive Player of the Year. Additionally, Jackson ran for 1,601 yards and 18 touchdowns and led the nation with 405 yards of total offense per game.
Evidently that hasn't been enough. Why? He throws too many lousy passes they say. He needs more work on his footwork, they say. The only thing left unsaid from evaluators is the dog ate his homework.
Even before the combine word was out that former NFL executive Bill Polian floated the notion of Jackson playing receiver. But Jackson's taken it all in stride. When in Indianapolis, his passing was sketchy. And it's the only thing he did while there. Yet he answered all the questions he needed to answer.
He wouldn't say if anyone asked him to work out at another position and reiterated he had zero desire to do so.
"No team has asked me to play wide receiver," Jackson said. "I don't even know where it comes from. I'm strictly quarterback. Yes, sir."
When asked how he'd react to any suggested position change, Jackson said, "I'm not going to their team — if anything. Whoever likes me at quarterback, that's where I'm going. That's strictly my position."
Jackson also added that he didn't think any of the position change talk had a racial component, but that's nonsense, isn't it? There have been some awful quarterbacks who no one dreamed of asking to switch positions. Tim Tebow leaps to mind immediately. There have been monster busts at the position like Ryan Leaf and David Klingler and David Carr and no one is reticent about drafting other white quarterbacks. Maybe that's because with Jackson, his overwhelming talent diminishes the evaluators' imagination. Or sends it into overdrive. Evidently, they haven't let go of Jackson abusing Texas A&M in the Music City Bowl his freshman season rushing and passing for 200 yards and think that leading a team is too limiting. Or their hedging their bets should be fail. Or they are trying to get a first round talent on the cheap. Pick one.
He evidently wanted to dispel the notion of anything other than his playing quarterback by only throwing in Indy. He didn't run a 40. He knows they know he can run. He didn't bench a thing and skipped the shuttles. He knows they know he's the most gifted athlete in this year's draft. He also knows anyone interested in him will see him at Louisville's Pro Day when he does everything along the players he's played with his entire career. More controlled and scripted and far enough away for him to smooth out deficiencies.
Even without fully participating at the combine, the grade on Jackson on NFL.com is 6.06 and adds "SHOULD BECOME INSTANT STARTER."
At quarterback.
Comments
comments