Notice
: Undefined offset: 1 in
/var/www/wp-content/themes/jnews/class/ContentTag.php
on line
86
Notice
: Undefined offset: 1 in
/var/www/wp-content/themes/jnews/class/ContentTag.php
on line
86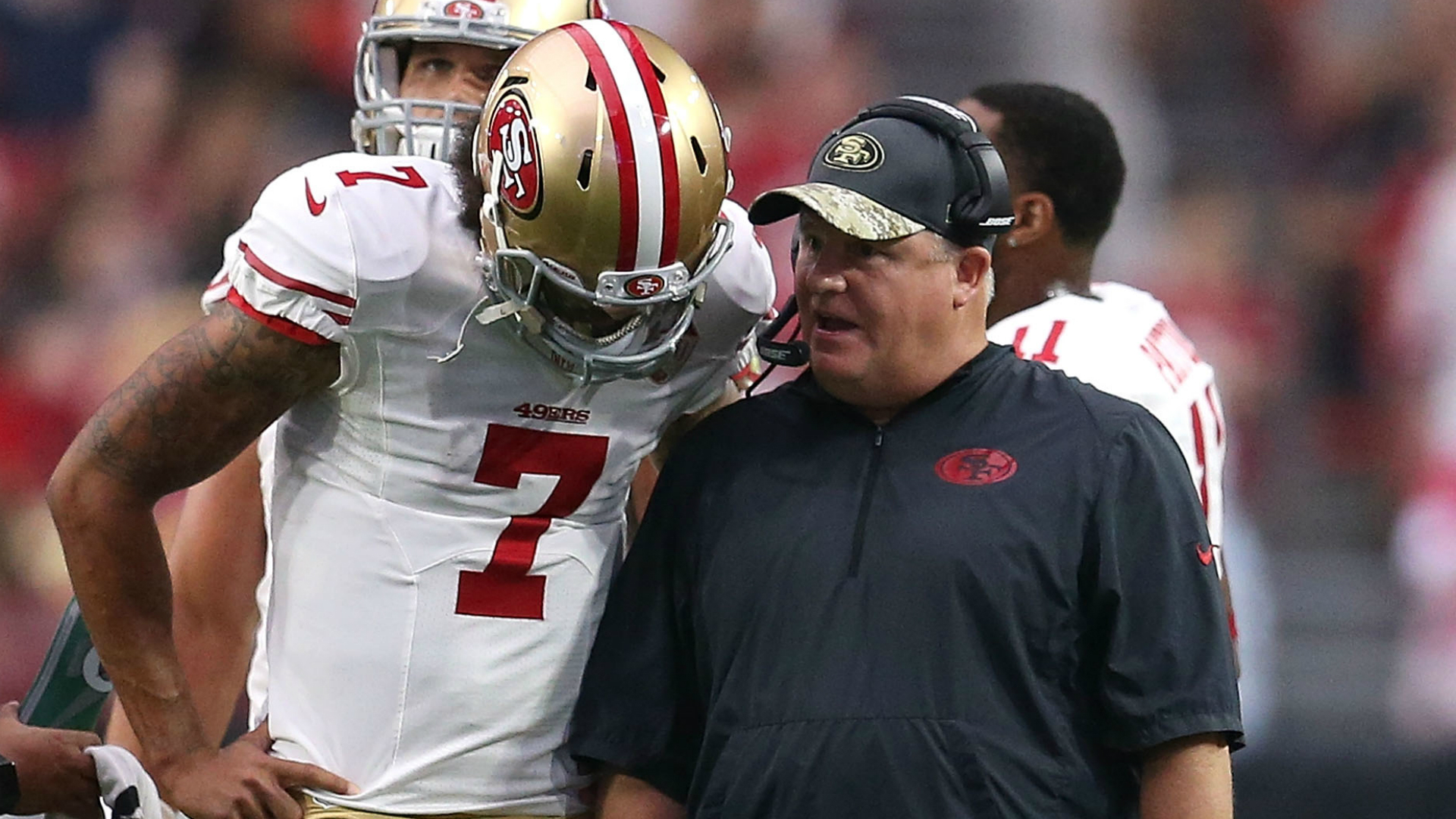 By Rickey Hampton, For The African-American Athlete
The last excuse for not signing Colin Kaepernick by NFL teams was recently vanquished. In an interview with ESPN's, Adam Schefter former San Francisco 49ers coach Chip Kelly said Kaepernick never caused a problem, on or off the field, when he coached him last season.
Of course, damn near everyone knows the story about how Kaepernick decided to protest issues of police brutality and racism in America by kneeling during the playing of the 'Star Spangled Banner' during the 2016 season.
Kaepernick's protest have been the topic of intense debate _ pro and con _ from the moment he did it before the start of a preseason game with Green Bay last August.  But at no time did his actions cause a problem, according to Kelly, who was fired after one season.
"Kap was awesome," Kelly told Schefter. "At the beginning of the year, he made a stance in terms of what he believes is right. We recognized and supported his ability to do that. But he never brought that into the locker room.
"We had a meeting the day after the Green Bay game that he did it in the preseason, and he explained to all the players his thought process and the mindset of what he was doing. There were some players that agreed with him and there were some players that didn't agree with him. But after that point, we heard from the outside about what a distraction it is, except those people weren't in our locker room and it never was a distraction. And Kap never brought that and turned it into a circus or whatever people think."
"[He] came to work every day extremely diligent in terms of his preparation, in terms of his work ethic in the weight room, in terms of his work ethic in the meeting room."
You can't ask for a better reference in professional team sports, where egos run rampant, than what Kelly gave Kaepernick.
Now, consider that Kaepernick is only 29.  He is a former Pro-Bowler, who led the 49ers to Super Bowl XLVII, and is coming off a season where he passed for 16 touchdowns and just four interceptions.
Just off the top of my head he is better than the quarterback in Chicago, Minnesota, Jacksonville, and the L.A. Rams, New York Jets, Texans. I could give you another half-dozen more teams, but you get the point.
Astonishingly, in this quarterback starved league, Kaepernick hasn't received a single offer.
NFL teams have made all kinds of excuses, including attempts to assassinate his character with whisper campaigns. But Kelly blew all of that up with his sterling endorsement.
"I really enjoyed Kap," Kelly added during the interview. "I've talked to Kap maybe three or four times since we both left San Francisco. I know he's working out hard in New York now. I think he's a really good person and a really good player, and I really enjoyed coaching him."
There is no doubt he is better, and more accomplished, than two-thirds of the quarterbacks in this league. But it doesn't matter because Kap is being 'White-balled.  I surely can't say he is being black-balled, because there are no black owners in the National Football League.  And it's the owners, not front office people, making the call not to sign Kaepernick.
America may have had a black president, but a league where nearly 70 percent of all its players are black, doesn't have black ownership. That lack of diversity is clearly missing in this issue. A black owner would at least be more likely to appreciate that Kaepernick has a right to have an opinion, even if he didn't agree with him.
But at least Chip Kelly took the sheets off the whole charade. We as black people really know why Kaepernick hasn't been signed. More than 200 years dealing with various forms of racism and discrimination have given us an inherent sensitivity to these kinds of things.
In other words, we can smell B.S. a mile away.
Comments
comments