Notice
: Undefined offset: 1 in
/var/www/wp-content/themes/jnews/class/ContentTag.php
on line
86
Notice
: Undefined offset: 1 in
/var/www/wp-content/themes/jnews/class/ContentTag.php
on line
86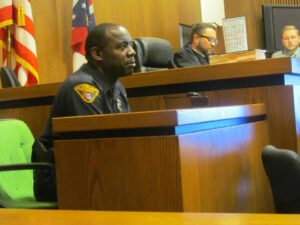 It is totally disgusting to see the long line of police officers get away with killing black folk walk away without any punishment.
The latest example in this long line of tragedy occurred last Friday in Minnesota where Officer Jeronimo Yanez was acquitted of charges in the death of Philando Castile.
You have seen the video by now, and you saw how Yanez choked, panicked, and overreacted as he recklessly fired seven shots _ seven _  into a car that had an innocent man, woman, and four-year old child in it.
You have seen the outrage on social media, and the protests in the streets, every time such a tragedy occurs, and they occur all too often.
But how do we stop this madness? There is no one answer, and there are no easy answers.
However, in Cleveland, Ohio, there is a man who is doing something that I think rarely happens in a trial involving a police shooting. It is also an important step in holding officers accountable.
He told the truth.
On Wednesday, Cleveland police officer Gregory King testified in the 2015 shooting death of Brandon Jones that his partner, Officer Alan Buford, should not have shot Jones.
King said he was never in fear of his life from Jones, who was unarmed.
The two men had just taken Jones into custody for a burglary, when Buford fired one shot into his chest. Buford is on trial for first-degree misdemeanor negligent homicide. It is rare to hear a police officer go against a fellow officer. The 'Blue Wall of Silence' code, in which officers never go against a fellow officer, is a very real thing.
Now, we will have to wait and see if King's testimony has any impact on the trial . In the end, it will be up to the jury to determine Buford's innocence or guilt.
But at least now King has given them something else to consider.  He told the truth as he saw it.  King has now put his career on the line. There will certainly be those who will seek retribution against him for cracking the 'Blue Wall'.
However, the men and women who truly desire the trust and respect of the people they are charged to protect and serve, should be proud.  Telling the truth is something that must occur in order to end these tragedies. For more on the trial.
Comments
comments