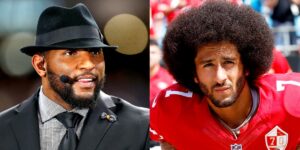 By Rickey Hampton, Editor and Founder of The African-American Athlete
It looks like Colin Kaepernick is never going to play in the National Football League again. His decision to kneel during the playing of the 'Star Spangled Banner' was simply too much for NFL owners to take. They are making it clear, Kaepernick is going to be made an example of.
And with the start of the 2017 training camp only weeks away, the character assassination of Kaepernick is in full effect.
Now, we are hearing reports from anonymous sources intimating that Kaepernick was lazy.  They are saying he didn't work hard on his craft, and he didn't study his craft.  His desire to play has been questioned by others.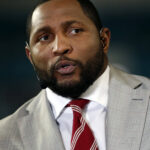 On Wednesday, Pro Football Hall of Famer Ray Lewis made one of the most naïve statements I have ever heard regarding the future of Kaepernick's professional football career.
Speaking on Fox Sports 1's 'Speak For Yourself' along with Colin Cowherd, Jason Whitlock and former NFLer Eric Davis, Lewis said the former 49er quarterback needs to decide what he wants to do with his life.
"I love his heart. I love what he's standing for," Lewis said. "These people, when you put on that uniform, that uniform is for one thing, it's to go out and win football games.
"And they don't care about [anything] else. So, you've got to ask yourself, if you're a [general manager], if you're a head coach, do you want that in your locker room knowing that when you go out on gameday, the most important thing is to get your team together to say, 'How do we win?'"
"He has to make up his mind," Lewis added. "Do you want to play football or be an activist?"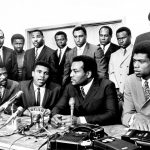 He has to decide if he wants to be a football player, or an activist? Really, Ray?
I could understand that coming from a naïve white man, who hasn't had built in obstacles put in front of him simply because of the color of his skin. In fact, it was so to the liking of many whites who think along those lines that alt-right website, BreitbartNews picked the story, up.
Damn, Ray. When Breitbardt thinks you have done a hell of a job, then you really need to check yourself.
To hear Lewis make such a statement demonstrates his total ignorance of the journey of black America. From the days of Paul Robeson, the Rutgers football star and entertainer, black athletes have been involved in civil rights.
Lewis acts like Kaepernick was throwing up black power salute after every completed first down or touchdown.  Nothing could be further from the truth.  The man felt it important to kneel during the playing of the Star Spangled Banner, and spoke the truth as he believed it to those who asked him about it. At no point has he taken his political feelings onto the playing field.
The one thing Kaepernick has shown throughout all of this is that he is very articulate, thoughtful, and determined. He has conducted himself with dignity and respect from the very beginning of his decision to protest the flag. It had no impact on his performance on the field. Despite playing for a dreadful 49ers' team, Kaepernick was highly efficient. He passed for 16 touchdowns, four interceptions and compiling a 90 percent QB rating.
Not only that, Kaepernick, or any other black man in America can only be one thing.
When you are black you carry that with you where ever you are, and what ever you do. In many instances, people see your blackness before they even know anything about you. Tragically, we see that example on a regular basis in America's law enforcement agencies that seem to be able to kill black people at will, with no legal retribution.
So, for anyone to say he has to make a decision on one, or the other, is not only naïve, but insulting.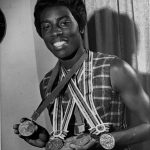 I am glad that Muhammad Ali didn't think that way when he spoke about America's mistreatment of black and poor people, or Arthur Ashe, a worldwide human rights activist. Let's be thankful that Tommie Smith and John Carlos decided they could be track stars and activists.
It's a good thing that football great Jim Brown, and basketball legends Bill Russell and Kareem Abdul-Jabbar didn't think that way. And let's not forget women like Olympians Earlene Brown and Wyomia Tyus in the '60s and tennis great Serena Williams and WNBA  star Brittany Griner.
It seems to me that Kaepernick hasn't decided on being a football player or an activist. It looks like he has decided the most important thing for him is to be a man, a strong black man.
Comments
comments