Notice
: Undefined offset: 1 in
/var/www/wp-content/themes/jnews/class/ContentTag.php
on line
86
Notice
: Undefined offset: 1 in
/var/www/wp-content/themes/jnews/class/ContentTag.php
on line
86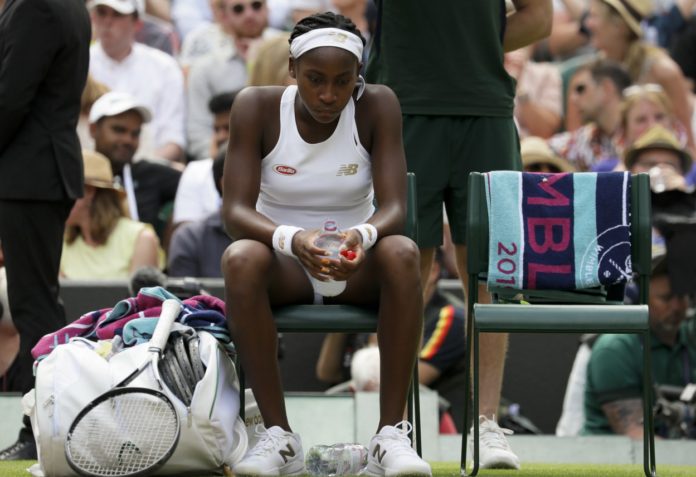 By Rickey Hampton, For TheAfricanAmericanAthlete.com
Well, Coco Gauff finally lost.
The 15-year-old phenom fell 6-3,6-3 to Simona Halep Monday at Wimbledon.
However, even in defeat, Gauff will leave as the story of the 2019 Wimbledon Championships.
As she fought Halep to the final point, the packed house at Court 1 cheered her on, showing their appreciation for Gauff's improbable run that included a first-round upset of tennis legend Venus Williams.
The Atlanta, Ga. native, the youngest qualifier ever for Wimbledon, began the tournament by knocking off tennis legend Venus Williams in the first round.
After knocking off Venus, Guaff did not pass up the opportunity to thank her for being an inspiration.
"I wouldn't be here if it wasn't for her," said Gauff, after her win over Venus. "And I was just telling her that she's so inspiring. Like, I always wanted to tell her that. And even though I met her before, I guess now I have the guts to."
Coco is the latest of the next generation of young, black, athletes who are making their mark in sports such as tennis. Consider the last two U.S. Open champions are Sloane Stephens in 2017 and Naomi Osaka in 2018 are players of color.
Credit Venus and Serena for sparking this next generation of black women's tennis players. 
As they head into the twilight of their utterly remarkable careers, the Williams sisters' legacy will continue to impact the game through the next generation of black tennis players.
Anyone who thinks Coco Gauff is the only good young black tennis player out there is wrong.
Comments
comments