Notice
: Undefined offset: 1 in
/var/www/wp-content/themes/jnews/class/ContentTag.php
on line
86
Notice
: Undefined offset: 1 in
/var/www/wp-content/themes/jnews/class/ContentTag.php
on line
86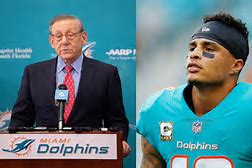 (Wire Services) _  Miami Dolphins wide receiver Kenny Stills criticized owner Stephen Ross for hosting a Donald Trump fundraiser Wednesday on Twitter. The Dolphins' billionaire owner responded with a statement hours later.
"You can't have a nonprofit with this mission statement [and] then open your doors to Trump," Stills tweeted.
Stills was referring to Ross' RISE Foundation. He tweeted a screenshot of the mission statement from the foundation, which describes itself as "a national nonprofit that educates and empowers the sports community to eliminate racial discrimination, champion social justice and improve race relations."
Ross is hosting President Trump Friday in the Hamptons for an event raising money for his reelection. The Washington Post obtained invitations to the event which has a price of entry of $100,000 for a photo opportunity and lunch and $250,000 for a package including a roundtable discussion. Stills also included a link to the Post article in his tweet.
"I always have been an active participant in the democratic process," Ross said in a statement to UPI. "While some prefer to sit outside of the process and criticize, I prefer to engage directly and support the things I deeply care about.
"I have known Donald Trump for 40 years, and while we agree on some issues, we strongly disagree on many others and I have never been bashful about expressing my opinions. I started my business with nothing and a reason for my engagement with our leaders is my deep concern for creating jobs and growing our country's economy.
"I have been, and will continue to be, an outspoken champion of racial equality, inclusion, diversity, public education, and environmental sustainability, and I have and will continue to support leaders on both sides of the aisle to address these challenges."
Ross has previously been supportive of Stills' decision to kneel during the national anthem in protest to racial injustice and police brutality. The RISE (Ross Initiative in Sports for Equality) founder is also the chairman and majority owner of Related Companies. A spokesperson from SoulCycle and Equinox — subsidiaries of Related Companies — issued a statement Wednesday saying they "have nothing to do" with the fundraising event and "do not support it."
SoulCycle and Equinox also called Ross a "passive investor." Ross has a net worth of $7.7 billion, according to Forbes.
Comments
comments