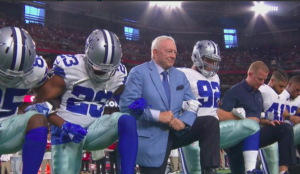 By Rickey Hampton, Editor and Founder of The African-American Athlete,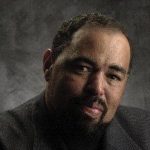 Pardon me if I am not excited over the fact that some of the NFL owners took part in pregame expressions of unity before the start of last Sunday's game.

The NFL owners can kneel, lock-arms, and criticize the racist rhetoric of the dotard who lives in the White House.
However, until Colin Kaepernick is on the roster of one of the NFL's 32 teams, they really haven't done jack.

I mean, really, what is it to criticize the idiot from 1600 Pennsylvania? Practically everyone knows he is a racist, and many of his inflammatory statements make no sense, or just flat out lies.

And, what does it mean that Cowboys owner Jerry Jones took a knee with his team, or that Lions' owner Martha FirestoneFord locked arms with the team on the sidelines? Those are merely symbolic gestures, which may give some a feel good moment, and perhaps make others think that these owners aren't so bad.

And, maybe many of them aren't bad. However, the almost all white NFL owners are  whiteballing Kaepernick,  an athlete who is more than qualified for his position to play quarterback in the NFL, over his peaceful expression. Yet, these same owners look the other way to domestic abuse, drug abuse, and other mis-steps.
You simply can't square those two actions.

So, until Kap is on a roster, at least in my eyes, they haven't done a damn thing. 
Comments
comments