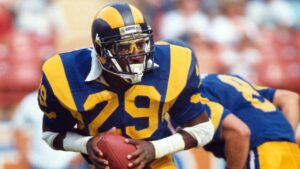 Eric Dickerson is one of the most underrated played in the history of the National Football League.
Following an incredible college career at SMU, where he teamed with Craig James to give the Mustangs the 'Pony Express', one of the most formidable running back tandems in college football history, Dickerson was  the No. 2 overall pick of the draft by the Los Angeles Rams in the 1983 draft.
The Rams made the right choice. Dickerson paid immediate dividends. He rushed for 1,808 yards his rookie season, and scored 18 touchdowns. But that was just a warmup. In his second year he rushed for 2,105 yards, and scored 14 touchdowns. Dickerson averaged 5.6 yards per carry, and 131 yards rushing per game during that remarkable season.
Dickerson played for the Rams, Indianapolis Colts, L.A. Raiders and Atlanta Falcons during his 11-year career. He was the first back to rush for more than 1,000 yards in his  seven consecutive years, and was the fastest player to reach 10,000 yards (91 games). For his career he ran for 13,259 yards _  which  in 1993 _ was second all time. He was inducted into the Pro Football Hall of Fame in 1999.
At 6-foot-3, 220 pounds, Dickerson was a big man, with sprinter's speed. He had a unique, upright running style, and seemed to glide on the field like a gazelle. When Dickerson ran with the football, it was as sweet and smooth as syrup pouring from bottle. Check out the highlight clip below. The video will take you to YouTube.
Comments
comments