Notice
: Undefined offset: 1 in
/var/www/wp-content/themes/jnews/class/ContentTag.php
on line
86
Notice
: Undefined offset: 1 in
/var/www/wp-content/themes/jnews/class/ContentTag.php
on line
86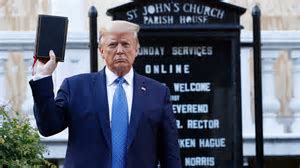 By Rickey L. Hampton, For TheAfricanAmericanAthlete
My evangelical friends who support the current president. I have a question for you. How do you do it? How do you stand by a man who morally bankrupt, utterly soulless, and narcissistic?
I understand that no person is faultless. My lists of sins and wrongdoings would surely fill a book, or two.  There has never been a perfect and sinless president, either.
Unfortunately, this current president is devoid of character. He is a liar and a cheat.  Those parts of his heart aren't entirely empty, are cluttered with hate, resentments, and grudges.  Even his tiny attempt at being charitable was busted for cheating.  
Yet, you continue to support this man who sleeps with porn stars, has myriads of affairs, and brags about sexual assault.  Remember "Grab them by the pussy?"
The support you, as evangelicals, show for the current president smacks against all of the values you espouse as members of the evangelical faith community.  You abandon principles that those of Christ's church have lived and died to uphold. 
His latest stunt, amidst a national uprising in the face of a public violation of one of God's commandments _ Thou shalt not commit murder _  was to have peaceful protestors forcibly removed from the streets of Washington. D. C.  so that he could walk to a church and hold up a Bible, which he handled as though it were a foreign object, for a photo-op.   
You support a man that would use Christ himself, God's church and Christ's religion to make a political point, and he doesn't seem to know or care, about the actual practice of any religion. Remember " Two Corinthians."? 
You support a man who says he has nothing to ask God for forgiveness from thus has never asked Christ, as his Lord and Savior, for the grace of forgiveness.  You turn a blind eye to his mocking of Christ's teaching by hurling insults against women, prolific expressions blatant racism, and even his disparaging of a disabled reporter.  That reporter is a man who Christ would have embraced and protected.  
Christ left us each charged to protect and defend and serve our Father God by performing acts that would reflect His majesty and grace.  How do you tout, support, and glorify any person who willfully teaches our children the opposite?  One who bullies.  One who has no sense of mercy.  One without compassion.
How do you do it?  Is it for political gains that are that important to you? Perhaps, this man is not familiar with Mark 8:36, but you are, right?  Recall? "For what shall it profit a man, if he shall gain the whole world, and lose his own soul?" 
Whatever it is that keeps you close to the current president, it is your right to do so.  However, by doing so the hypocrisy you are exhibiting seems to be antithetical to the faith you evangelize.  You can't have it both ways.
Comments
comments