Notice
: Undefined offset: 1 in
/var/www/wp-content/themes/jnews/class/ContentTag.php
on line
86
Notice
: Undefined offset: 1 in
/var/www/wp-content/themes/jnews/class/ContentTag.php
on line
86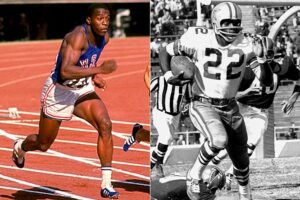 By Rickey Hampton, Editor and Founder of The African-American Athlete
It is still hard to believe that it's been more than 50 years since Bob Hayes delivered his stunning performance in the 100 meters at the1964 Tokyo Olympics. After all, leading up to the Olympics, very few people even knew of Hayes, who hailed from all black, Florida A&M University, in Tallahassee, Fla.
By the time the Olympics ended, the world couldn't forget Hayes. He blew past the competition. Hayes' torrid, world record setting, 10.0 seconds in the 100 meters, easily beat his nearest competitor on the way to winning Olympic gold.
Hayes earned the title as "The fastest man in the world," and the nickname "Bullet" Bob, because he seemed faster than a speeding bullet.
Hayes was also an outstanding football player at FAMU, under legendary coach Jake Gaither. Hayes was drafted in the seventh-round of the 1964 NFL draft by the Dallas Cowboys. It is incredible he went so low in the draft, but that was still at a time when scouts were unsure of the quality of players from Black Colleges.
Hayes would go on to be the NFL's first big play game breakers. In 1970 he averaged 26-yards per catch, and in '71 he averaged 24-yards per catch. Amazingly, Hayes finished his 11 year-career averaging 20-yards per catch, while scoring 71 touchdowns.
Modern-day big play pass catchers like Randy Moss and Calvin Johnson averaged 15.9 yards per catch. Hayes also changed the way the game. He just couldn't be covered one on one by defenders, so defensive coordinators had to run 'zone coverages' to defend against him.
Hayes is the only athlete to ever win an Olympic Gold medal and a Super Bowl (VI) ring. Hayes was inducted into the Pro Football Hall of Fame in 2009. Click the link to see highlights of Hayes.
Comments
comments