Notice
: Undefined offset: 1 in
/var/www/wp-content/themes/jnews/class/ContentTag.php
on line
86
Notice
: Undefined offset: 1 in
/var/www/wp-content/themes/jnews/class/ContentTag.php
on line
86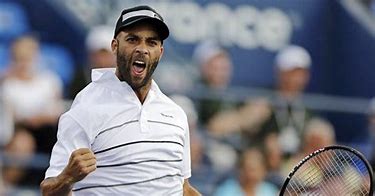 By Michael Roberson, For TheAfricanAmericanAthlete.com
Although the event is designated for women and girls on the WTA circuit, four former ATP players provided their own brand of entertainment, especially James Blake.

Blake, once the #4 ranked player in the world (2006) on the Association of Tennis Professionals (ATP) Tour, displayed some of those skills — although at an advanced age — by winning the title amongst the Invesco Series QQQ quartet (Michael Chang, Andy Roddick and Australian star Mark Philippoussis), August 3, at the Mubadala Silicon Valley Classic in San Jose, CA.

Blake, 39, retired from the ATP tour in 2013 and joined the Invesco Series the following year.
The MSVC is the longest-running, women only, a professional tennis tournament, and a continuation of the Bank of the West Classic, formerly held on the Stanford University campus. With that distinction, there have been occasions when men were also incorporated into the prominent event.

 Blake thrilled the late-night crowd with a 7-6(4) tiebreak victory over 1989 French Open champ, Michael Chang, then a short time later grabbing the title, after defeating Aussie legend, Mark Philippoussis, in similar tiebreak fashion, 7-6(4), garnering 400 series points in route to repeat as 2018 Invesco champion.
"My body feels like it's retired, but once you get out here, the competitive juices never go away and you want to win," said Blake after grasping the title at nearly Midnight on the West Coast.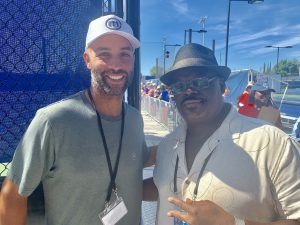 The series continues until November, with Blake participating in three of the four remaining stops (New Haven, CT, Toronto, ON and Houston, TX), and not scheduled for the Los Angeles tournament.

Besides still being able to run around on the tennis courts, James is also involved in the front office side of the sport, as the tournament director of the Miami Open, since 2018. He has espoused his expertise in the sport on television too.

Additionally, Blake is a philanthropist by creating his James Blake Foundation, that invests money into cancer research, and the
Thomas Blake, Sr. Memorial Research Fund he established in 2008, also helps to fight the dreaded disease. The latter is so dear to him because it is named in honor of his late father, who succumbed to gastric cancer in 2004.

James is also an author: 'Breaking Back: How I Lost Everything and Won Back My Life' (2007) the autobiography discussed a comeback in the sport and life, while 'Ways of Grace: Stories of Activism, Adversity, and How Sports Can Bring Us Together ' (2017) speaks for itself.

Blake is a proud family man, with a wife, Emily (2012) and two daughters. He enjoys golf, basketball, poker, and rooting for his hometown New York Mets.

The journey to the point in life that James Riley Blake is right now, was not easy or smooth, both on and off the court.
James was born December 29, 1979, in Yonkers, New York, to the aforementioned African-American father, and British white mom (Betty). He has five siblings (one full brother, three half brothers and a half-sister), including fellow future pro tennis player, Thomas Jr.

Blake started playing tennis at the tender age of 5 with his brother, Thomas, who was 8.
The legendary Arthur Ashe was a huge influence to James, as he heard the pioneer speak to the Junior Tennis Program, in Harlem and would continue to inspire him through present day.

The Blake family ended up moving to Connecticut due to Thomas Sr.'s job relocation.
As he entered his teenage years, James received a devastating diagnosis that he had Scoliosis. This caused him to have to wear a full-length back brace for 75 percent of the day for five years, with an exception for when he participated in tennis events.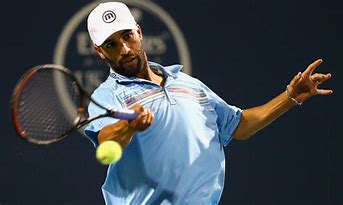 After surviving that ordeal, Blake took his talents and intelligence to the highly esteemed Harvard University.

Two years into his time in the Cambridge, Massachusetts prestigious school, James decided to forgo his college matriculation, and turn pro on the rectangular court.
His professional career started off with great promise, including being only the third (Ashe and MaliVai Washington) African-American player to perform on the US Davis Cup team.

The year of 2004 turned out to be a tumultuous one, as Blake slipped on a clay court while practicing, and slammed into the net post, breaking his neck (7th Vertebra) in May. A couple of months later, he lost his father to cancer. Simultaneously he was stricken with Shingles, causing facial paralysis and blurred vision.

After recovering from those health dilemmas, and a slow start on the courts, this was more than enough motivation to pen a book detailing the recent dramatic setbacks.
In 2006, things were looking up again, as James was winning tournaments and earned a Top 5 ATP world ranking, and in 2007, the Breaking Back book released as a NY Times bestseller, and James being an integral part of the Davis Cup championship were great moments in his career.

He was steady the rest of his playing days with a few upsets and high points and was pretty content with his career with very few to no regrets.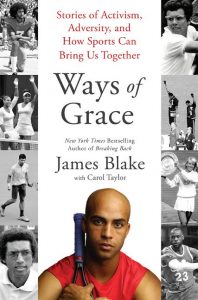 "If I had a regret about my career, it would be that I didn't get more visibility to let more people know and hopefully inspire more young African-American males to get into the sport [Tennis]." Expressed Blake on the small numbers of black American male players.

A very disturbing incident happened during James' retirement stage in 2015, as he was in New York for the US Open, a plainclothes NYPD officer tackled and handcuffed him while he was just standing in front of a hotel, allegedly mistaken for a credit card fraud suspect.

This, of course, was at a time when police brutality and murder of black males and females were approaching a "boiling point" epidemic. Colin Kaepernick's involvement was to be seen nearly a year later.

The NYPD tried to steer away from racial profiling as the reason for the egregious mistake; however, Blake did file a lawsuit, then rescinded it because he wasn't seeking financial gain. Instead, he wanted to establish a fellowship to help victims of police brutality and investigate police misconduct.

This significant event prompted the 'Ways of Grace' book, that was published in 2017 and gave the readers insight into his activism and how the New York police aggressiveness affected him.

Of course, the officer in question felt he was portrayed incorrectly in the book because he allegedly felt that Blake looked exactly like the person of interest they were supposedly staking out.

He sued James for defamation, claiming he made him look like a racist, rogue bad cop; however the case was subsequently dropped in 2018.

As Blake approaches the milestone birthday of the BIG 4-0, he can reflect on how much he has accomplished and experienced in such a short lifespan, and hopefully has plenty of time to reach higher heights.

When James turns 40 on December 29, he will not only be in the Middle Age Zone, but he may also have the distinction of claiming back-to-back Invesco Series points championships, along with gifts from the family, I'm sure.
Comments
comments