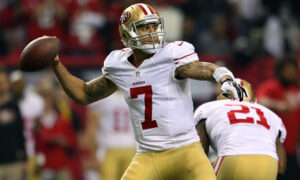 By Rickey Hampton, Editor and Publisher of The African-American Athlete
You just gotta shake your head at some of the B.S. that is going on regarding Colin Kaepernick.  I just wish people would say they don't want him on their team because of his political views, not because he can't do this, and can't do that.  The latest straight up garbage explanation about Kaepernick comes from former Tennessee Titans general manager Floyd Reese.  While appearing on a radio show Reese explained, or at least tried to explain, why the Titans would select a mediocre journeyman quarterback, Brandon Weeden, who has failed miserably every where he has been, over Kaepernick, an accomplished quarterback with an impressive resume.  Here is Floyd's explanation of why Kaepernick doesn't fit the Titans, and the mediocre Weeden does:
"Even though Marcus can run – you remember this, even his rookie year when we were talking about it, I said – the thing I really, really like about him is that when he starts to move … he is moving to throw. He is not moving to run," said Reese.  "And I think with Kaepernick, when he moves, he's moving to run. He's out on the corner all the time. That's where he's comfortable. That's probably where he's best."

"He is not a pocket passer. Neither is RG3 (Robert Griffin III), and probably neither ever will be. And that's what we're looking for from Marcus. That's what you're looking for in an NFL quarterback. Pocket passer. Everything else is window dressing. If you're a pocket passer, you've got a chance to be a quarterback." He then called the player's decision to express themselves during the national anthem a 'circus.' 
"You don't want this circus,' he said. "We just talked last week about how you thought [Titans player] Delanie Walker getting a death threat cost them the game. Well, you can imagine what's coming with this."  Walker spoke out last week ago on why it is important for players to use their platform for change."
Well, let's just say it's good that Floyd Peters is a former GM. He seems to have the 'Make America Great Again' mentality that many of the current president's supporters do. And, not only that, the fact he thinks Brandon Weeden, who has played for three teams in five years (31 touchdowns 30 interceptions 76 QB rating), can do anything on the field better than Colin Kaepernick (who has passed and rushed for 85 touchdowns and has a 88.9 QB rating) shows he doesn't know a damn thing about football.
Comments
comments