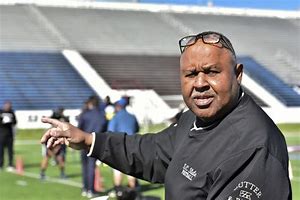 By Roscoe Nance, For TheAfricanAmericanAthlete.com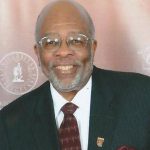 Buddy Pough has roamed the sidelines for 17 distinguished seasons at South Carolina State, having posted 125 wins while winning, two Black College National Championships and five MEAC titles.
But the Bulldogs' home game on Saturday, a 21-17 loss to North Carolina Central (a makeup of the Sept. 15 contest that was postponed because of Hurricane Florence)   could be Pough's final game coaching the garnet and blue.
His contract runs out on Dec. 31, and it is unclear if he will return. At the end of 2017, indications were this would be it after he signed a one-year extension. But Pough has been sending mixed signals about his future since as early as the MEAC Media Day in July, and those signals are even more scrambled as the Bulldogs have rallied from a 0-4 start to finish up at 5-6.
"There was a point where we couldn't seem to make anything happen and anything that could go wrong did go wrong,'' Pough says. "This would be a great time to be starting the season. I wish could go back to September and the beginning of the season and put this team on the field as opposed to ending the season. We've gained a bunch of confidence from the success we've had toward the latter part of the schedule.''
That sounds like a coach who's looking forward to next season, not one who looking to schedule tee times.
The Bulldogs have a four-game winning streak that includes road victories against Howard and Florida A&M when both were in contention for the MEAC championship.
Pough has never been one to throw in the towel – you don't become No. 2 on the school's career victory list by cutting and running when things get tough. But he says he didn't anticipate the Bulldogs being able to turn the season around the way they have.
"It surprises me that I wish the season would go on from here,'' he says. "There was a point around midseason all we wanted to do was hurry up and finish and go home. We're at the point we want to go on another month so. I never would have thought we would have turned our season around and be at the point we are. We didn't look like we ever wanted to see a football again.''
Pough entered the season not really know what the future would for him beyond the next 11 games. But he didn't change his approach. He didn't look at it as a farewell tour or a stroll down memory lane During the conference media gathering before the season began, he pointed out he was "approaching this season pretty much like any other one.''
"I don't know if you can change things around, teach an old dog new tricks,'' is the way he explained it "You kind of do things in a way that you've been accustomed to over the years. (But) I have tried to create a little bit of an understanding that this could be it.''
The 2018 season was a struggle for the Bulldogs from the outset. They opened with back-to-back losses to FBS opponents Georgia Southern and Central Florida by a combined score of 75-6. Next, they dropped a 17-7 decision to Norfolk State in their MEAC opener after their contest against North Carolina Central was postponed before losing to North Carolina A&T State 31-16.
Their only loss since that wretched start was a gut-wrenching 28-26 to Bethune-Cookman. They fought back from a 25-6 second-quarter deficit and were in a position to tie the score but a two-point conversion attempt with 2:26 remaining failed.
Pough is the dean of MEAC coaches. His tenure is almost double the combined total number of years the other nine MEAC coaches have been at their respective schools. Terry Sims and Latrell Scott are second to Pough in years of service with three years at Bethune-Cookman and Norfolk State, respectively. There were five first-year coaches in the conference in 2018.
"I'm it,'' Pough says. "I look around the conference and there isn't a soul around here who was here when I first got here. I don't know if some of these places haven't turned over three or four times in all my years. I've been fortunate to be in a situation where you've been able to do what I've done and not have to move.''
Each of the current conference members has had at least three head coaches – including interims – since Pough took over at South Carolina State. Florida A&M and North Carolina A&T State have had seven each.
Pough has been a part of the South Carolina State football for nearly 40 years as a player, assistant coach, and head coach, and he has had a hand in 14 of the school's 16 championships. He is second only to Willie Jeffries on Bulldogs' career winning list record with a 125-64 mark, including a 94-33 record in the MEAC. The Bulldogs won MEAC titles in 2008 and 2009 and shared four others ('04,'10,'13 and '14) league championships. He guided the Bulldogs to the FCS playoffs four times (2008, 2009, 2010 and 2013), and they were named 2009 Black College National Champions in 2009.
Pough began his career with 10 straight winning seasons. Two of his three sub-.500 records have come in the last three years, and the Bulldogs had the worst season of his tenure – 3-7 and 2-6 in the MEAC – in 2017.
"I've been around long enough where I can see that things aren't quite going the way I want them to go,'' he says. "It's big for me that we do a lot different than we've done the last couple of years.''
The Bulldogs returned 14 starters – eight on offense, six on defense – with six All-MEAC picks. MEAC coaches and Sports Information Directors picked South Carolina State seventh in their preseason poll. The schedule that them playing Georgia Southern, Central Florida and North Carolina A&T in the first month of the season made it predictable that would struggle early. Pough entered the season cautiously optimistic that Bulldogs would be able to hold their own.
"I'd like them to play really well,'' Pough he said at the time. "But at the same time, all teams are a bit different. You never know what kind of maturity and camaraderie and connectivity you're going to have. I've had teams with great personnel that didn't play very well, and I've had teams that were kind of medium and they played better. We've got to make this team. It's big on my part to do a good job of creating that atmosphere that's going to allow these guys to be successful.''
Pough's competitive fire is burning as hot as it ever has, he says, and like always he isn't paying attention to the pundits and the prognosticators.
"I feel the fire even more so now because of the circumstance,'' he says." I'm looking forward to seeing if we can patch this thing together. We got to play better at the quarterback position. That's big in the scheme of things. If I can get one of those Cailyn Newton (the Howard University quarterback who was the 2017 MEAC Rookie of the Year) recruits coming in, I think it would make it all come together.''
Sophomore quarterback Tyrece Nick beat out red-shirt junior Dewann Ford Jr. and has had a strong season while emerging as a dangerous dual-threat. He is the Bulldogs' leading rusher with 864 and he has thrown for 1,016 yards while completing 46.2% of his attempts.
"He's grown a bunch,'' Pough says. "We'd like to think he can be our guy the next two years. But until you get to the point you've experienced some success and then continue to make those improvements each week, you don't know if this guy is going to be the second coming of one of the better players at South Carolina State. We do think this guy is a talent.''
Those are the words you expect to hear from a coach who's not ready to ride off into the sunset and plans on being around for a while.
Pough has produced 28 All-Americans and scores of all-conference performers; 33 of his former players have gone on to play in the NFL, including six who were drafted – the most recent being linebacker Darius Leonard, the Indianapolis Colts' second-round pick in the 2017 NFL Draft who appears to have locked up a starting position, and Pittsburgh Steelers defensive lineman Javon Hargrave, the team's third-round pick in the 2016 draft. Seven former Bulldogs who played for Pough are on NFL rosters.
Pough's halcyon years at South Carolina State came from 2008-10. The Bulldogs were 29-8 overall and 23-1 in the MEAC. They won two outright conference championships and shared a third while appearing in the FCS Playoffs all three years.
"You don't pay much attention to that,'' Pough says of his past successes. "You go about the task of trying to figure out how to make happen what you need to make happen right now. Those times that have been good, that's all great. But you're not counting on that kind of stuff and the things that you could possibly do in the future, yeah, I want to make sure I work toward them, but we're all in the moment.''
Pough is leaving the door open to the possibility of returning to South Carolina State in 2019. He needs four wins to surpass Jeffries, one of his mentors and a close friend, for the top spot on the Bulldogs' all-time victory list.
"What we'd like to try to do this season is see what direction we're going in,'' he said, shortly before the final game. "If it's one that we (the University and Pough) feel comfortable with, we might talk about going a little bit longer. But at the same time if there is something that's either one of us – the University or me – is not quite comfortable with, then we're going to try to find somebody to come in here and fix this thing.''
Breaking the record of Jeffries, a member of the Black College Football and College Halls of Fame, would be a storybook ending to Pough's career. However, he says it would be a bittersweet accomplishment.
"I'm so close to Coach (personally),'' he says, "I don't know if I'm deserving of that. It's one of those kind of deals where we're going to do our very we can each day and let everything take care of itself. That's kind of how it works.''
(Legendary sports writer Roscoe Nance is a member of the SWAC Hall of Fame, and a pioneer for black sports writers around the country. You can listen to Roscoe on his podcast _ 'Express Yourself with T-Ramone and 'Sco' _ on Tuesday's at 8 p.m. EST. Call 929-477-1209 to listen live on your phone.)
Comments
comments