Notice
: Undefined offset: 1 in
/var/www/wp-content/themes/jnews/class/ContentTag.php
on line
86
Notice
: Undefined offset: 1 in
/var/www/wp-content/themes/jnews/class/ContentTag.php
on line
86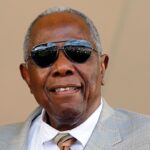 By Tim Turner, For TheAfricanAmericanAthlete.com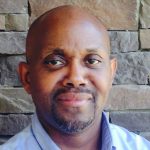 The hatred is as palpable now as it was 44 years ago. To say Hank Aaron's quest to become major league baseball's all-time home run king was not universally embraced is massively understated. By daring to be great, Aaron would have to sit at his locker and read this:
Dear Hank Aaron:
"Retire or die. The Atlanta Braves will be moving around the country and I'll be moving with them. You'll be in Montreal June 5-7. Will you die there?"
Or this:
"I hope you don't break Babe's record. How do I tell my kids than a nigger did it. But it took, more at-bats, live ball, and other nigger tricks. I wish you the worst at anything you do. "Nigger"! (KKK forever)."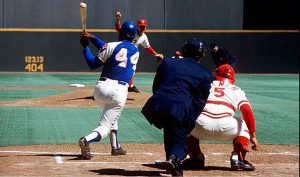 And it just gets sicker:
"How could such a creep (sic) hit a home run. Your (sic) a cheap (sic). I hate you!!! Your (sic) such a little creep (sic)! I hate you and your family.
I'D, LIKE TO KILL YOU.
BANG BANG your head.
P.S. It mite (sic) happen."
Aaron shook all that off, and on April 8, 1974, he passed Ruth to become the greatest home run hitter the game has ever seen. And many still considered him king despite his 755 home runs being surpassed by Barry Bonds, the supremely gifted San Francisco Giants slugger — whose record is deemed to be tainted by performance-enhancing drug allegations, ones that have thus far kept one of baseball all-time great hitters out of the Hall of Fame.
Though he didn't throw shade at Bonds, Aaron wasn't quiet about the steroid issue. And over the weekend, while speaking with the Atlanta Journal-Constitution, he wasn't quiet about his support for those players who forego White House invitations.
"There's nobody there I want to see," Aaron said. "I can understand where the players are coming from. I really do. I understand they have their own issues and things they feel conviction about. They have a right to that, and I probably would be the same way, there's no question about it."
He added, when he played, he perhaps should have been more vocal. And given that baseball's color barrier had him start his career in the Negro League, he appreciates the value of speaking up in baseball and on other social issues.
"We didn't get to where we are today because we kept our mouth closed or scratched our head and sat and didn't do anything,". If you have an opinion, then you should voice it and let people know that is your opinion and you're not speaking for anybody but yourself."
Sadly, as it was when he silently about knocking off a home run king, he is getting hammered for his agreeing with those who are voicing their displeasure with someone who thinks instead of a president that he is a king.
The responses are far more measured now, but no less biting. Perhaps that's because their name and photo are attached to their messages on social media. And the internet will find you out.
Ask BBQ Becky in Oakland who a few weeks back called the cops on people BBQWB (Barbecuing While Black), and this week, Permit Patty, who feigned a call to the police because an 8-year-old girl was selling water without a permit.
Yes, these responses from Facebook are more civil, but no less filled with disdain. In this response, it was racial:
"Why would you invite an old racist to the White House? What a bigot. What has he done? A few home-runs whoopie.‬"
In this one, he speaks his mind and is forever tarnished in the eyes of this former fan:
"Then Hank Aaron and anything he has EVER done and any business he owns MEANS NOTHING TO ME OR‬ MY FAMILY.‬"
And in this one, it gets personal and laced with phony nationalism and false logic.
"Obviously an arrogant disrespectful man. The White House represents us, the people, not the man who temporarily resides there. Nothing to you, sir, then you are saying all of us mean nothing to you. So sad to hear you speak so disrespectfully about a country that idolized you. Guess we were wrong!‬"
Wrong is the only cogent thing that was correct in the last one.
Wrong about just wanting the 84-year-old Aaron to fade away silently when he sees wrong in the world because he played baseball. Wrong about what the protests are about.
Wrong about expecting Aaron, or the Philadelphia Eagles, or the Golden State Warriors times two protesting what they see is wrong with the country to love as much as any other Americans.
And that he added his voice to the fight… well that is Aaron's 756th home run.
Comments
comments