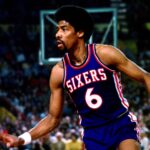 It's hard to believe that Julius Erving is celebrating his 68th birthday today (2/22/18). It seems like it was only yesterday that the Doctor was making house calls in the ABA, and later in the NBA.
Shaquille O'Neal once suggested that Julius Erving should be included in the conversation with LeBron James and Michael Jordan as the greatest player of all time, or the GOAT, as so many like to say today. "I've seen a young Michael, and a young LeBron, but Dr. J is my favorite player," O'Neal said. "A lot of people don't mention his name, but I still think he was the best. But these are questions that we will never know the answer to."
 These are always fun questions to discuss on social media these days. However,  the reality is nothing concrete can ever come out of it.   Trying to pick the best basketball player is a subjective thing. Who is your favorite hip hop artist, Rakim or Nas? I mean, they are both great. It is just your musical preference.
Erving, Jordan and James are all great players, and would be the catalysts of any team you put them on. How many titles they would win depends largely upon who they are surrounded by on the court. While  Jordan fans love to bestow him as the guy who won six titles, he had a ton of help. Remember, it took MJ seven seasons to win his first title.  Jordan didn't start winning titles until Scottie Pippen's game matured, and another hall of famer, Dennis Rodman, and a host of solid role players joined him.
The ABA version of the Doctor was by far the best individual player I have ever seen.  I had the pleasure of seeing 'The Good Doctor'  having attended college in Virginia.  Doc played for the Virginia Squires, and later the New Jersey Nets. He was the most unstoppable force in the open court I have ever seen, and the ABA was a run and gun league, which played right to Erving's strengths.
Erving was the best in-game dunker, ever. He dunked on any, and everybody, including 7-foot-4, Artis Gilmore, 7-2 Kareem Abdul-Jabbar, and 6-11 Bill Walton. Erving was not a great man-to-man defender, but he blocked shots from the weak side, and played the passing lanes like a master thief.
The NBA's version of Doc,  didn't measure up to the ABA version (he averaged 29 points per game in the ABA, and 22 per game in the NBA). The NBA was not the wide open game that was the ABA, and Erving began to have knee problems. However, he still played at a hall of fame level, just not the 'other world' level he played with the ABA.  Nontheless,  he always gave the Philly fans something to cheer about. And, in 1983, he teamed with Moses Malone to help the 76ers win the NBA title. Check out this great tribute to Erving posted below.
Comments
comments