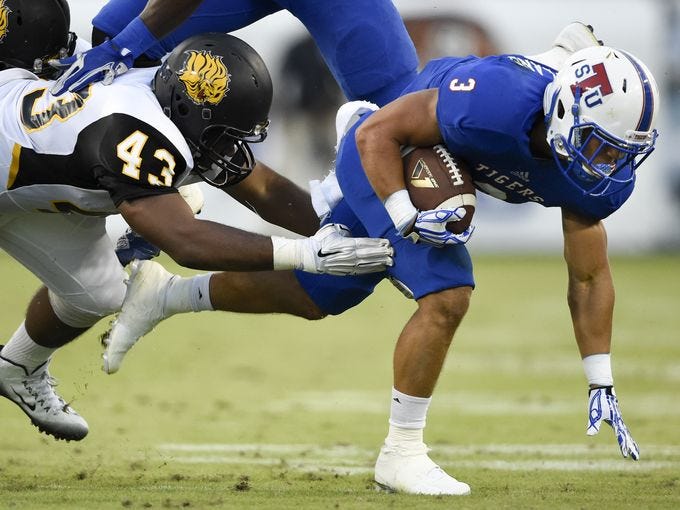 By Roscoe Nance, For TheAfricanAmericanAthlete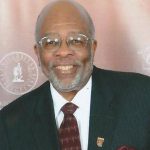 Arkansas-Pine Bluff continued its run as the surprise team of the 2019 HBCU football season with a heart-stopping 37-31 win against Tennessee State at Hale Stadium in Nashville,
Shannon Patrick threw a 17-yard touchdown pass to Jeremy Brown on the final play of the game to give Golden Lions (3-1) their first win in five meetings all-time against the vaunted Big Blue, one of the most decorated Black College Football programs in the country, and a three-game winning streak. The streak is their longest in seven years. Their 3-1 start is the best since 2012 when they won the SWAC championship with a 10-2 record; the three victories are the most in a season since they were 4-7 in 2014.
The score see-sawed back and forth in the final period with the teams combining for three touchdowns in the final 3:51, and it became apparent that the team that had the ball last was likely to win. That team proved to be the Golden Lions, and they rose to the occasion.
Tennessee State (1-3) tied the score at 31-all with 51 seconds remaining. Patrick then calmly drove the Golden Lions down the field. He completed passes of 16, seven and 35 yards to Harry Ballard III before connecting with Brown for the coupe de grace. Ballard finished the game with seven catches for 112 yards. Patrick passed for 253 yards and two touchdowns.
"It's just a testament to them doing everything right," said UAPB coach Cedric Thomas. "Last year, I told them we wouldn't have won this football game. We didn't do things right. We didn't do things right in the community. We didn't do it right in the classroom, and on the football field…The young men are going to church. They are believing what we are saying. They are being respectful in the community and they are going to class. It's a direct reflection of what's happening on the football field."
The Golden Lions suffered through two-win seasons three of the previous four seasons, and they only won one game in 2016.
The Golden Lions won the game thanks to Patrick's last-minute heroics. But running back Taylor Porter enabled them to keep control the pace of the game with 107 yards rushing and two touchdowns on 18 carries.
Tennessee State quarterback Matt Rosendahl had a big game, throwing for 334 yards and three touchdowns. Chris Rowland was on the receiving end of 13 of Rosendahl's passes for 154 yards. But Tennessee State's defense was unable to slow down Arkansas-Pine Bluff's offense. The Golden Lions averaged 7.2 yards a play and amassed 519 yards total offense.
Key Results
Alcorn State 45, Prairie View A&M 41 – The Braves first rose to football prominence more than 50 years ago with Marino "The Godfather'' as their coach by relying on defense, field position, and the run. Those days have long since passed, and that fact was underscored Saturday as the Braves outscored Prairie View A&M 45-41 on the Reservation in Lorman, Miss., in a matchup of preseason favorites to contend for the SWAC championship.
Alcorn is the five-time defending SWAC East champion. Prairie View is picked to finish second to Southern in the SWAC West.
The teams combined for more than 900 yards total offense before Tim McNair Jr. grabbed a three-yard touchdown pass from quarterback Felix Harper with 40 seconds remaining for the winning points. Harper started in place of injured starter Noah Johnson and completed 25 of 37 attempts for 280 yards and two touchdowns.
 LaCharles Pringle was Harper's favorite target. Pringle had eight catches for 144 yards and a touchdown. The game featured six lead changes. Alcorn (2-2, 1-0 SWAC) started the winning drive at its 35-yard line with 5:20 remaining in the contest. The Braves had to convert a fourth-and-four at the Prairie View 36 to keep the drive alive.
"A game of this magnitude you're going to have lead changes,'' Alcorn coach Fred McNair said. "Prairie View has a good team, and Coach (Eric) Dooley does a great job with those guys. Their offense was explosive and their defense played hard.
In a back-and-forth scoring game like that, you just hope to have the last chance with the ball and win it.'' Prairie View quarterback Jalen Morton had a sensational game. Morton completed 23 of 35 passes for 321 yards and four touchdowns.
But the Braves intercepted him three times, twice by Qwynterrio Cole. Running back Dewonya Tucker chipped in with 128 rushing yards and two touchdowns on 22 carries. The Panthers compiled 506 yards total offense. But in the end, they were unable to move the ball when they needed to most.
An unsportsmanlike conduct penalty against Alcorn on the kickoff following McNair's go-ahead touchdown enabled Prairie View to get to the Braves' 43. However, Morton threw three incomplete passes from that point.
Florida A&M 27, Southern 21 – The Rattlers squandered a 12-point first-half lead before rallying for a nonconference home win. Quarterback Ryan Stanley's 17-yard touchdown pass to Xavier Smith with 3:32 left lifted Florida A&M (2-1) to victory.
It was the second touchdown pass for Stanley, who completed 24 of 39 attempts for 355 yards. Smith ended the game with nine catches for 201 yards. The Jaguars (1-3) came back from a 19-7 halftime deficit to go ahead. 21-19 with 14:53 left. Quarterback Ledarius Skelton, who was ineffective in the first half and was benched, scored the go-ahead touchdown on a nine-yard run.
Alabama State 23, Grambling State 20 – The Hornets controlled the ball for most of the fourth quarter and came away with a home win in their SWAC opener. Alabama State (2-2, 1-0 SWAC) possessed the ball for 11 minutes in the final period, including the last six, to keep the G-Men (0-3, 0-1 SWAC) winless on the season.
Quarterback KHA'Darris Davis scored on a one-yard run with 9:55 remaining in the contest to put Alabama State ahead. The G-Men responded by driving to Alabama State's 28 on their next possession, but Garrett Urban missed a field goal that would have tied the score wide left. The Hornets took possession with 6:07 remaining and never gave the ball back.
TOP PERFORMANCES
Slade Jarman, QB, Fort Valley State – Had 347 yards total offense – 297 passing, 47 rushing – and accounted for three TDs in a 30-23 win against Shorter.
Torrin Campbell, QB, Shaw – Completed 23 of 41 passes for 316 yards and four TDs in a 48-47 2OT win against Chowan.
Charles Stafford, QB, Clark Atlanta – Completed 26 of 46 passes for 306 yards and three TDs in 26-19 loss to Central State.
Terraris Saffold, RB, Central State – Had 36 carries for 165 yards and two TDs in a 26-19 win against Clark Atlanta.
Emanuel Wilson, RB, Johnson C. Smith – Had 29 carries for 152 yards and two TDs in a 33-19 loss to Virginia Union.
Isaac Washington, RB Bethune-Cookman – Had 14 carries for 149 yards and two TDs in a 22-6 win against Mississippi Valley State.
Bentley Jordan, RB, Alabama A&M – Had 17 carries for 137 yards in a 55-21 loss to Samford.
Leonard Tyree, WR, Miles – Had six catches for 129 yards in a 49-21 loss to Missouri S&T.
Stevie Green, RB, Fayetteville State – Had 17 carries for 128 yards and one TD in a 51-6 win against Lincoln (Pa.)
Shemar Bridges, RB, Fort Valley State – Had seven catches for 122 yards in a 30-23 win against Shorter.
Manasseh Bailey, WR, Morgan State – Had six catches for 121 yards and two TDs in a 52-21 loss to Army.
Charles Hall, WR, Virginia Union – Had four catches for 114 yards and two TDs in a 33-19 win against Johnson C. Smith.
Demetrius Kendrick, RB, Virginia State – Had 17 carries for 114 yards and two TDs in a 34-7 win against Saint Augustine's.
Kevin Johnson, RB, Norfolk State – Had eight carries for 112 yards and one TD in a 56-21 loss to Montana State
DuShon David, WR, Bowie State – Had three catches for 107 yards and one TD in a 42-14 win against Alderson Broaddus.
Deshaun Wethington, RB Chowan – Had 15 carries for 106 yards and one TD in a 48-47 2OT loss to Shaw.
Da'Kendall James, WR, Norfolk State – Had five catches for 103 yards in a 56-21 loss to Montana State.
MEAC
Army 52, Morgan State 21
Howard 24, Delaware State 9
Montana State 56, Norfolk State 21
FAMU 27, Southern 21
NCCU 45, Elizabeth City 7
SWAC
UAPB 37, Tenn. State 31
Alabama State 23, Grambling 20
Samford 55, Alabama State 21
Alcorn State 45, Prarie View 41
CIAA
Bowie State 42, Alderson-Broaddus 14
Virginia State 34, St. Augustine's 7
Winston-Salem 23, Tuskegee 20
VUU 33, Johnson C Smith 19
Livingstone 21, Allen 7
NCCU 45, Elizabeth City State 7
Shaw 48, Chowan 47
Fayetteville State 51, Lincoln (PA) 6
SIAC
Fort Valley 30, Shorter 23
Winston-Salem 23, Tuskegee 20
Lane 44, Edward Waters 14
Savannah State 21, Benedict College 14
Central State (OH) 26, Clark Atlanta 19
Albany State (GA) 26, West Georgia 14
Missouri S&T 49, Miles College 21
Comments
comments