Notice
: Undefined offset: 1 in
/var/www/wp-content/themes/jnews/class/ContentTag.php
on line
86
Notice
: Undefined offset: 1 in
/var/www/wp-content/themes/jnews/class/ContentTag.php
on line
86
​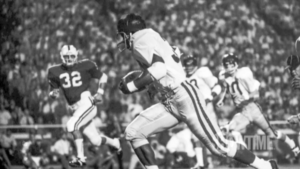 By Rickey Hampton, For The African-American Athlete
[dropcap]T[/dropcap]There are people out there who will tell you that Black College football is dead. They will tell you that it died from a slow, painful death, from disease called 'integration' that it contracted in 1971.
It all happened like this: During the 1970 season Alabama, got its ass kicked by Southern Cal, who was led by a black running back named Sam 'The Bam' Cunningham. USC won  42-21, and Cunningham led the way, running over the Tide for 135-yards, and two touchdowns. Alabama's coach, the great Paul 'Bear' Bryant had seen enough. He was tired  of black kids leaving Alabama and going on to star at a schools up North, or one of  the predominantly black schools like Alabama State, Jackson State and Southern.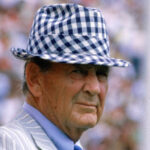 So, in 1971, the Bear went out and recruited Alabama's first African-American football player, Wilbur Jackson. It was a monumental moment in college football. In essence, it began to swing the power of big time college football back to the South, while  severely damaging the quality of play in Black College football.
After Jackson's signing at Alabama, other southern schools started opening up their doors to African-Americans. Slowly, but surely, the bevy of NFL caliber athletes who were going to HBCU schools like Jackson State,  Grambling, Texas Southern, and Florida A&M, began enrolling in schools like Alabama, Florida, Texas, and  Auburn.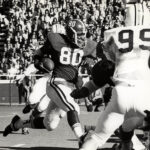 More than 40 years later, the impact is obvious. Southern football is played at the highest level in the country. The SEC has been the dominant conference over the past 20 years. And all you have got to do is look at the stunning number of African-American athletes in the lineups at every SEC school to see why.
  Let me be clear, integration was a great thing. It was the right thing. It was something that should have occurred many, many years ago. All Americans should have the right to work, live, play and attend college, where ever they want to go.
Nonetheless, African-Americans paid a heavy price for their freedom. First, we have to never forget the men, women and children, black and white, who sacrificed, some with their lives, to win the civil rights battle.
And even beyond the human sacrifice,  was the price of integration in the black community. It lost  black owned businesses that once counted  the entire African-American community as clients. But with integration, those clients could now patronize white owned businesses.  Vibrant African-American communities suffered in the same way, as families gained the freedom to live where ever they wanted.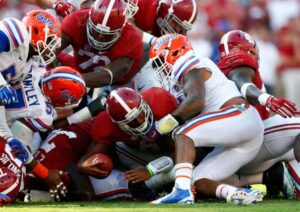 Black colleges took a hit as well, as student's options opened up. Once prosperous schools like Fisk University now fight for their very survival.  Athletics felt the blow, especially in football.  As the quality of football  players declined,  so did the quality of play. And it is no surprise that all these factors cascaded down to waning interest in Black College football, which is shown in lagging attendance across the country.
The critics who say Black College football is dead point to the recent attendance woes of venerable events such as the Circle City Classic in Indianapolis, Florida Classic in Orlando, and  the Bayou Classic in New Orleans, all of which in past years have played to sold out stadium.
However, those numbers are relative. Through the 2015 season, the  SWAC (SouthWest Athletic Conference) has led all FCS conferences in attendance for 36 out of the past 37 years. On the Division II level, the SIAC (Southern Intercollegiate Athletic Conference) has led 24 of the past 26 years.
I will say that Black College football is, while long from dead, in need of a complete physical. I am not talking about a 'doc in the box' physical. It needs an MRI,   ECHOs,  and CT scans. It needs the works.
[quote]
The assessment starts in the office of the university president. If your president isn't serious about hiring a good athletic director (who will in turn hire a good coach)  and spending money, then you better hope your alma mater has a helluva band. They  ain't gonna win many football games.
Certainly, there are  financial constraints that many of HBCUs operate under. However, money has always been an issue, and black folk have always known how to make a whole lot out of a little bit. The administration that is willing to invest wholly in athletics, will reap the benefit. The president that understands  athletics is the university's greatest recruiting tool, is going to be ahead in the game.
[/quote]
Consider this example of football's branding power, and why it is good for the university for the team to win: Even if you watch college football on a casual basis, there is a good chance you know at least some of the words, and the jingle, to the Notre Dame, Michigan, and Tennessee fight songs.
Now, why in the hell would someone who went to Virginia Union, know the Michigan fight song? Because he/she has heard it played during Michigan football games a million times.  That is the power of athletics.  It is why schools like Michigan are willing to spend big bucks on athletics, because they know the return on that investment is practically incalculable, in terms of dollars and exposure.
HBCU schools can't spend to that level, but there is a level above the current one they are operating on for them to reach, and it is worth the effort to get there.
The next prescription to building a winning program is hiring a quality coach. There needs to be better coaching on the HBCU level. I see a lot of error prone football from HBCU's. Some of that comes from the decline in talent, but more of that is from poor instruction by the coaching staff.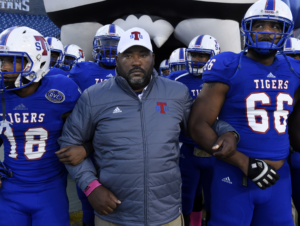 That means hiring a good coach and keeping him there, even if he struggles every now and then. The lack of consistency in coaching staffs has been a problem of late. Schools have to give whomever they have put in charge of the program time to cultivate a championship environment in the locker room, in the classroom and on campus, before they even think about winning football games.
TSU has done that with coach Roderick Reed. He is one of the bright young coaches in Black College football, and the Big Blue Tigers are trying to make sure he doesn't go any where else. Reed signed a three-year extension through the 2018 season. That frees him to tell recruits, and their parents, that he will be around to watch over them, and help them grow as football players and men. Telling a parent you will be there for their kid is as important as any offensive or defensive scheme they will be coming into.
Reed has the toughest job of any HBCU coach, because he is competing in the Ohio Valley Conference. TSU is the only HBCU school to compete in a non-HBCU conference. He must recruit against schools who can draw from both the white and black talent pools. Reed has been able to recruit some white athletes, but he is forced to rely mostly on African-American athletes.
 Now that you got a quality coach in place, and an administration that is behind you, the prognosis for a healthy program is about to get a lot better. Nothing energizes the alumni and boosters more than a winning program.
With everything in place,  the coach  has the opportunity to recruit quality football players.   The staff can  be aggressive recruiting the best players, black and white.  One thing I  would like to see is more HBCU coaches  going after more  blue chip recruits, especially when you got a connection with the recruit (alumni, family friend, coach).
Connections  can pay off big.  For example, NFL Hall of Famer Richard Dent came to TSU sight unseen, thanks to a friend of the university.  There is no question you will miss on the big star recruit more than you hit, but when you connect it could be a grand slam.
Finally, when those recruits get to campus, the administration should make sure those kids will  visit a campus that has quality facilities, nice  dorm rooms, and a safe environment. And, don't forget to sell the university. HBCUs offer an experience that is unique among colleges and universities. Academically, the nurturing and support is second to none, and the experiences of campus life are unforgettable.
As for football? Let that kid know his dream of playing in the NFL is every bit as good at North Carolina A&T, Alcorn State or Hampton, as it would be at Texas, Oklahoma,  or Florida. HBCUs have historically made significant contributions to NFL rosters. If you can play, the NFL will find you.
Black College football is far from dead.  It is only a commitment away from leadership to getting back on its feet.
Comments
comments