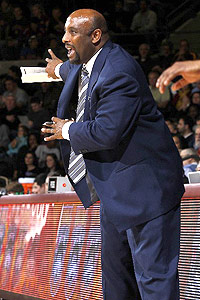 Brian Ellerbe, the first black head basketball coach at the University of Michigan, was the guest on the latest edition of 'In And Out Of Sports' hosted by D.C. talk show legend Butch McAdams.
In the first hour, Butch led a panel discussion on finance with Dr. Lei Lewis, Mike Dennis, and Terri Hartwell Easter.
Ellerbe joined the discussion in the second hour. He talked about learning the game on the playgrounds around the DMV and his college career at Rutgers. Ellerbe was also the first black coach at Loyola (MD) (1994-'97) before taking the job at Michigan in the fall of 1997.
'In And Out Of Sports' is brought to you by Hortons Funeral Service, Elite Dental, and Germ Sweep. Click to listen to the interview.
Comments
comments