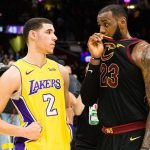 LeBron James is a Los Angeles Laker.
It became official Sunday afternoon via a Twitter post announcing that James, one of the game's all-time great players, signed a four-year deal worth $154 million. Considering the length of the deal, it would seem that James, 33, will likely finish his illustrious career playing for one of the NBA's most prestigious franchises.
The signing ends his second stint with Cleveland which did include that coveted NBA title in 2016 that ended a championship drought in the city that went back to 1964. It will also take him to the Western Conference for the first time in his 14-year career.
Comments
comments