Notice
: Undefined offset: 1 in
/var/www/wp-content/themes/jnews/class/ContentTag.php
on line
86
Notice
: Undefined offset: 1 in
/var/www/wp-content/themes/jnews/class/ContentTag.php
on line
86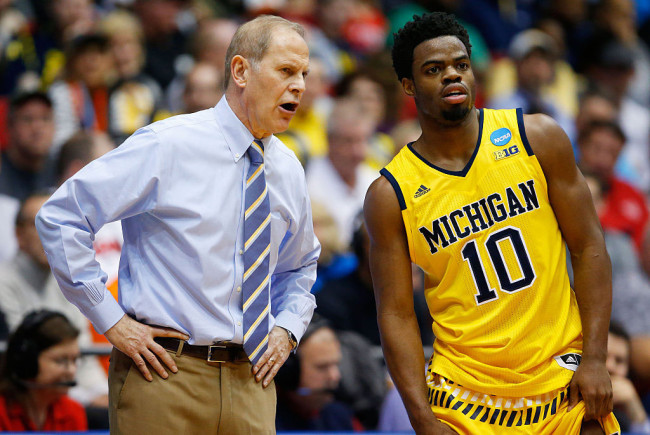 By Rickey Hampton, Editor and Founder of  TheAfricanAmericanAthlete.com
Will John Beilein have to sit a year out for leaving Michigan for the NBA?

Of course not.

The highly popular, highly successful, coach for 12 seasons at the University of Michigan will be able to step right into his new assignment as the coach of the NBA's Cleveland Cavaliers.

Cavalier fans should be thrilled with the choice of Beilein. He is an exceptional basketball coach, and I think Beilein, even at what is considered an older age at 66, is one of the few who is capable of making the jump from college basketball to the NBA.

It's all good for Beilein. His five-year contract with the Cavs will pay him handsomely, for sure.

And to be clear, Beilein has every right to leave Michigan for what he considers a better opportunity in the NBA.

My problem is if Beilein would also be able to go right to work if he was leaving for UCLA, Texas, or any other NCAA school.

However, what about the student-athletes Beilein recruited to Ann Arbor? If they wanted to leave could they find an opportunity at another school and transition so easily?

Nope. Under most circumstances, the answer is no.

The NCAA punishes most players who transfer by making them sit out a year.
Now. some will say a year is not a long time.

I agree. It is not a long time when you are 18 and 19 years old.

However, why should players have to wait a year when coaches don't? They are essentially working for their scholarships. There are literally hundreds and hundreds of hours put into practice during the season and during the summer.

And please, don't tell me the kids still get to go to school at the University of Michigan even though Beilein is gone.

There is no doubt that the University of Michigan is one of America's premier institutions nonetheless, the majority of the young men on the Michigan basketball were greatly influenced by the fact they are playing for Beilein, one of America's finest college coaches.

Beilein is no longer affiliated with the NCAA so he could do as he pleases. However, if he was leaving Michigan for UCLA, Texas, or any other NCAA school he would still be able to go right to work.

His former players at Michigan don't have that right.
Why? Because the NCAA is rigged against the student-athlete.
Comments
comments