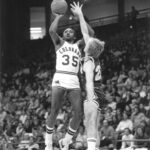 A lot of the young cats probably never heard of Jo Jo Hunter. The Washington, D.C. native was so good coming out of Mackin High School in 1976 that the Philadelphia 76ers were ready to make him the first guard ever drafted straight out of high school. The 6-foot-3 guard was a can't miss prospect. He had size, strength, skills and a basketball IQ off the chart.
Unfortunately, Jo Jo's potential career got sidetracked. He never played in the NBA. Instead, he ended up in a prison cell.
However, Jo Jo's story did not end there. He never gave up on himself, and his fans, and his D.C. community never gave up on this man who was not only a legendary player, but a better man. Here is a replay of his interview on TheAfricanAmericanAthlete.com talk show.
Comments
comments