Notice
: Undefined offset: 1 in
/var/www/wp-content/themes/jnews/class/ContentTag.php
on line
86
Notice
: Undefined offset: 1 in
/var/www/wp-content/themes/jnews/class/ContentTag.php
on line
86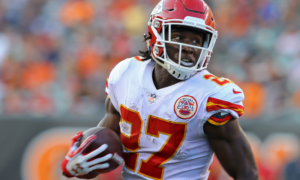 By Maury Jackson, For the African-American Athlete
The great thing about the NFL is that you never know what to expect. Every year, surprise teams come out strong and make deep runs in the season. There are also new players that burst onto the scene and have a huge impact every year. Particularly at the running back position, there seems to be a new face emerge with spotlight each year.
In recent memory, guys such as Chris Johnson, Alfred Morris, and last year's Ezekiel Elliott burst onto the scene in their young NFL careers to become arguably the best at their position. Who will be that guy this year? After Week 1, it appears Kareem Hunt has all the tools to be that guy.
Yes, it was only one game, and yes the QB play of Alex Smith opened up a lot, but Kareem Hunt definitely showed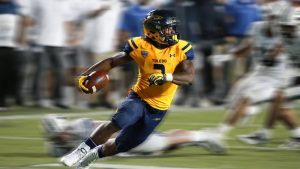 out this past Thursday.
The rookie out of Toledo got off to a shaky start, fumbling his first NFL carry. In a much anticipated first game of the season under the bright lights, Hunt certainly made up for it after the fumble.
Nearly 150-rushing yards  100-receiving yards and three touchdowns later, Hunt made fantasy owners very happy with the steal they got. Not only did he do this against a Bill Belichick coached defense, he did this in his first career NFL game against the defending champs.
Kareem Hunt is not an Alabama product. He did not play for LSU, Ohio State, or any of the other running back factories in the country.
He comes from Toledo, and with that comes a lot less pressure to stick in the league and be a great player. As a very elusive and well-rounded running back, Hunt fits the mold of current running backs in today's league. He made plays all over the field against the Pats,  and looked comfortable doing so.
He's showed the capability to be an every down back and proven to be a receiving commodity.  He secured all five of his targets in the passing game during Week 1, and was hard to bring down on the ground. The performance he put up will be notable for a long time as a rookie's career debut.
The Chiefs appear to have a deep, talented offense on the horizon this season. That will put even less pressure on Kareem Hunt. If Alex Smith continues to play at a high level, Tyreek Hill plays to his potential, and the defense doesn't suffer too much with the loss of Eric Berry, expect Hunt to put up numbers this year.
Kareem Hunt won't put up 250 total yards every week, but a 1000 yard season or rookie of the year award winner is not unreasonable at all.
Comments
comments