Notice
: Undefined offset: 1 in
/var/www/wp-content/themes/jnews/class/ContentTag.php
on line
86
Notice
: Undefined offset: 1 in
/var/www/wp-content/themes/jnews/class/ContentTag.php
on line
86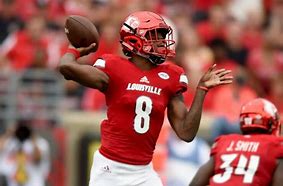 University of Louisville quarterback Lamar Jackson has declared for the NFL draft.
Jackson made his announcement via Twitter:
"For the past three years, the [University of Louisville] as well as the city of Louisville has embraced me as one of their own," he wrote in a Twitter message. "My time in Louisville has produced some of the best memories of my life. I have had the pleasure of being in the presence of some of the best professors, coaches, advisers, training staff, athletes and fans in the nation. With their help I have been able to grow not only as a quarterback, but as a teammate, student, and most of all, as a man.
"After much discussion with my family and coaches, I have made the decision to take the next step in my career and enter the 2018 NFL draft.  I would like to thank the University of Louisville, Coach Petrino and the coaching staff, my teammates and the fans. I t has been nothing short of an honor to be a member of #CardsNation and to play for this university. No matter what the future holds, one thing remains true #GoCards!"
The junior from Pompano Beach, Fla., has been the most electric player in college football the past two seasons. His numbers are simply astounding.  Jackson is the only player in college football history to amass 3,500 passing yards and 1,500 rushing yards in consecutive seasons. He set records at Louisville in rushing yards (4,132), total offense (13,175 yards), and total touchdowns (119).
The 6-foot-3, 215 pounder, who captured the 2016 Heisman, and was a finalist again in 2017, is an extraordinary athlete. He has sprinter's speed and a powerful arm.
However, his ability to translate that skill-set to the NFL is being doubted.  Some of the so-called draft experts say he is only the No. 7 or 8th quarterback in the draft.  In fact, there are those who think he would be better switching positions, like former Ohio State QB, Terrell Pryor, who spent his initial years in the NFL playing quarterback, before moving to wide receiver.

Like so many black quarterbacks that have come before him, Jackson is labeled as a dual-threat quarterback, which is code for a black guy who can run like the wind, but is not an efficient passer.

The fact that Robert Griffin, the former No. 2 overall pick in the 2012 draft by Washington, has been a bust works against Jackson. Of course, quarterback busts come in all shapes, sizes and especially color.  And the fact so many white quarterbacks have failed in the past hasn't stopped the NFL from drafting similar prospects year after year.

Now, this is not to say Jackson is a finished project. The young man needs to work on his craft as a passer, and reading NFL defenses. Nor is this to say he will go on to be a great NFL quarterback. The QB position is the arguably the most demanding position in the world of sports. Hopefully, there will be a team that will take a chance on Jackson, and from there his play will show what he can, or cannot do.
And when you consider the lack of quality quarterback play in the National Football League, there should be a place for Lamar Jackson.
Comments
comments