Notice
: Undefined offset: 1 in
/var/www/wp-content/themes/jnews/class/ContentTag.php
on line
86
Notice
: Undefined offset: 1 in
/var/www/wp-content/themes/jnews/class/ContentTag.php
on line
86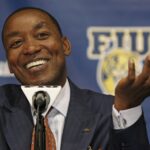 By Rickey Hampton, Editor and Founder of TheAfricanAmericanAthlete.com
It is so good to see people are finally catching on to the hustle the NCAA has been playing on young athletes for years. As you may have read many times in this space, the compensation package for today's big time college athlete is obsolete. The stars of the show, the athletes, get practically nothing, while coaches, universities and television networks reap giant financial rewards off their talents.
Perhaps no one has explained the issue better than NBA legend Isiah Thomas, and former NBA star Chris Webber. During a segment of 'TNT's Players Only', the two men explained why today's model the NCAA uses is totally outdated. Thomas said today's college athletes are no more than indentured servants.
"What the NCAA has become and what it is right now and how the contracts are basically structured, they're indentured servant contract(s)," Thomas said. "You really give up your name, likeness, so forth and so on and you're not paid for it. At some point in time, they were able to sell you on scholarship and education being a thing that you basically were compensated with, but revenue has continued to rise and we all understand this as NBA players because right now in college, their salaries are capped."
"When you look at the increase in revenue over a period of years, you've got billion-dollar (television) contracts, but you've got unpaid labor, or if you want to say their scholarship is their compensation, then their compensation has been capped at a certain level so it's really uneven," Thomas said. "NCAA, their business model is based on a plantation business model," Thomas said. "And it's probably the only plantation that's allowed to exist legally in the United States right now." 
Added  Webber, who starred at the University of Michigan where he was part of the 'Fab 5'.
"The (NCAA) is a total scam," Webber said. "I say put 10 percent of all profits into a stipend and give it to college athletes. It's not about giving them another hundred dollars. My grandfather grew up on a plantation. I don't know if people know what that is, but the premise of the plantation was that next year will get better.
"We'll (NCAA) never let you see the books. We'll never let you see how much cotton you pick. This is just how much you're worth. College and speaking to the great Bill Russell, we had a conversation and basically he said college is slavery."
Click the link below to watch the full interview.
Comments
comments