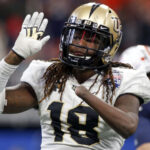 By Rickey Hampton, Editor and Founder of TheAfricanAmericanAthlete.com,
By far, the most impressive individual at the annual NFL Combine workouts in Indianapolis last week was Shaquem Griffin, the University of Central Florida linebacker.
Griffin is an NFL prospect despite the fact he only has one hand.

When Griffin was 4-year-old his left hand was amputated due to complications from a disease called Amniotic Band Syndrome
But that didn't stop Griffin from becoming one of the top players in college football.

At the Combine the 6-foot-2, 227-pound linebacker, tested off the charts. He ran a sizzling 4.38 in the 40-yard dash. No player at that position has run a time that fast since 2000. He then benched pressed 225-pounds an astounding 20 times. He used a prosthetic left hand to grip the bar.

He inspired coaches, scouts and fellow players with his passion and desire at every turn.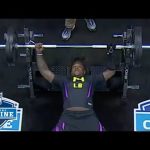 But in truth, it was just another day on the field for Griffin. At UCF Griffin consistently astounded teammates and opponents with his remarkable play-making ability. Griffin was the American Athletic Conference Defensive Player of the Year award, and he had a 12 tackle game against SEC power Auburn in a bowl game.

Griffin looks at himself as a football player, just like all of the other NFL prospects.

"So many people are going to have doubts about what I can do, and obviously, it started at the bench press," said Griffin. "Some people think I can do three, some people think I can do five, some people didn't think I could do the bench press.

"But I did it and competed with everybody else and did 20, and that's just one step closer to everything I need to accomplish. There's going to be a lot more doubters saying what I can't do, and I'm ready to prove them wrong."

It is going to be interesting to see what team selects Griffin, and in what round. In a league that makes decisions based on metrics, numbers and physical makeup, Griffin should be X-out because of his impairment.

After all, how can a player make a tackle with one-hand?

Well, Shaquem Griffin can. He is a hell of a player. He makes plays on the field, and inspires his teammates with his leadership and passion for the game.
And, no matter where Griffin ends up being drafted, he is going to be a hell of a football player on somebody's NFL team. Check out more on Grffin in the two video links.
Comments
comments