Notice
: Undefined offset: 1 in
/var/www/wp-content/themes/jnews/class/ContentTag.php
on line
86
Notice
: Undefined offset: 1 in
/var/www/wp-content/themes/jnews/class/ContentTag.php
on line
86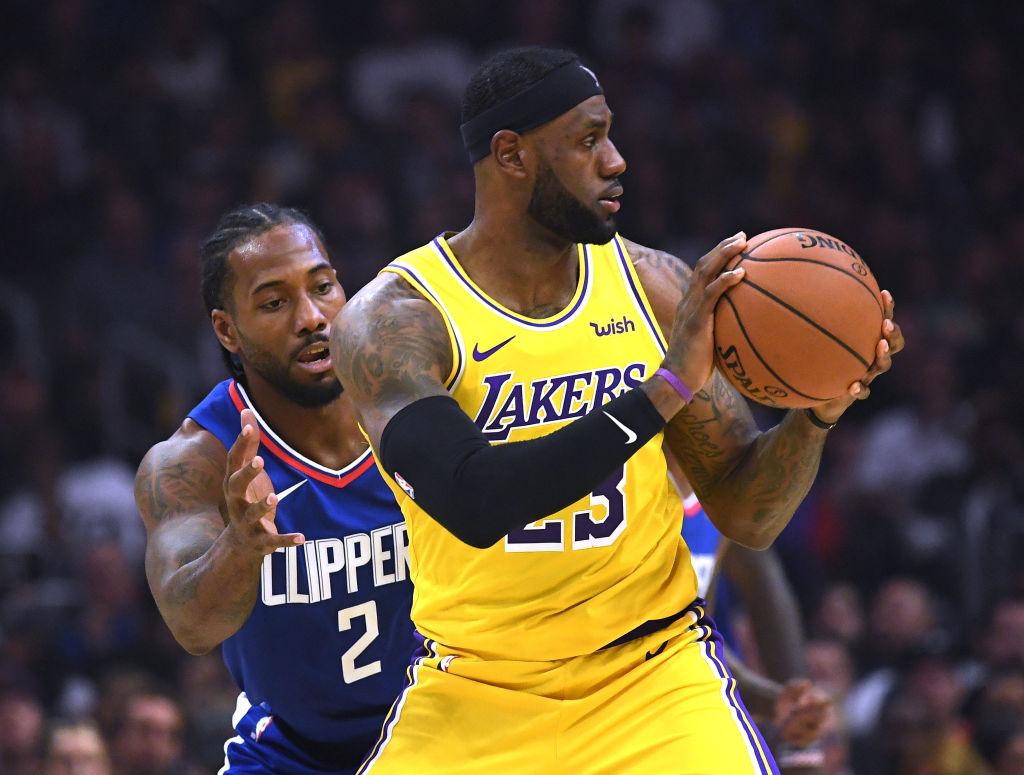 By Shaquille Hill, For TheAfricanAmericanAthlete.com
The 2020 NBA Playoffs are here. These Playoffs in the bubble are clearly different than playing arenas across the country, and some believe that could affect teams' level of play at the most crucial part of the season.
Let's take a look at the matchups:
West:
1) LA Lakers vs 8) Portland Trail Blazers
This could be one of the more explosive 1 vs 8 first-round matchups in some time. Portland's Damian Lillard earned the Most Valuable Player Award for the bubble portion of the season. He averaged 37.6 points and 9.6 assists per game for the NBA restart. The Blazers went 6-2 in those games. Lillard averaged 36 points per game against the Purple and Gold in the regular season. Teammate CJ McCollum averaged 20 points against the Lakers. The Lakers won the regular-season series 2-1, but the Blazers won the final game in February.
LeBron James averaged just below 25 points a game against Portland, along with 12 assists. Forward Anthony Davis averaged nearly 32 points a game in the three meetings against Portland. He also averaged 11.4 rebounds a game.
X-Factors:
Portland: Who is Portland's third star?
As lethal as CJ McCollum and Damian Lillard are, they'll likely need a Big Three to top the Best in the West. My feeling? The third star could be Carmelo Anthony or Jusuf Nurkic.
Nurkic had a monster performance Saturday afternoon against Memphis in the Play-In game, ending the day with 22 points, 21 rebounds, 6 assists, 2 steals, and 2 blocks. He'll need similar numbers – along with the NBA 2K like play from Lillard – to give Portland a chance at the upset. He'll face off against Davis and JaVale McGee in the paint.
Carmelo Anthony came up big Saturday, scoring 22 points, including a dagger trey to seal the win for Portland. Melo averaged 14 points off the bench for Portland in his two games against the Lakers, if he gets anywhere near 20 points a game in this series, the Lakers could be on the ropes.
LA Lakers:
Guard Play: Point guard Rajon Rondo has finally entered the bubble. However, the combination of Kentavious Caldwell-Pope and Alex Caruso has managed to subside Rondo's absence. For now.
But, who guards the nearly unguardable Lillard besides LeBron? And who helps James facilitate the offense to give him a breather while defending Lillard. These questions may end up determining the winner of the series. Kyle Kuzma is due for a major performance his first Playoff series.
Prediction: Lakers win series 4-1
LeBron and AD are still too much for Portland. While Lillard will still explode, it's the other Blazers I question. James and Davis win the first round for the Lakers – but it won't be easy.
2) LA Clippers vs 7) Dallas Mavs
The Clippers come into the first-round with the most momentum of any team out West. The duo of Kawhi Leonard and Paul George has paid some dividends, and they are also part of a lockdown defense that includes Patrick Beverley. The Clippers swept the regular-season series, 3-0.
Leonard averaged 31.0 points, 8.3 rebounds, and 3.7 assists on 45.2 percent shooting, while George averaged 25 points on 42.8 percent shooting from the floor against Dallas.
Dallas' Luka Doncic has been MVP-worthy in only his second season: 28.8 points, 9.4 rebounds and 8.8 assists per game. He's been a force to be reckoned with throughout the season.
Against the Clippers, he's just as spectacular: 29.0 points and 7.0 assists per game. He has Kristaps Porzingis as part of a Mavs' dynamic duo. Porzingis averaged just over 18 points a game against the Clippers. Both Doncic and Porzingis struggled in the 114-99 loss early in the season. They'll need to come up big in order to give Dallas a chance. Even then, a series win is a tall order.
X-Factors:
Can Dallas get consistent offense from other players besides Doncic and Porzingis? No player besides those two averaged more than 20 points per game against the Clippers. That's a major concern for the Mavs. Tim Hardaway Jr. and at least one other player will need to step up against LA to make this a series.
How long or easy could this series be for the Clippers? This isn't so much about the Mavs as it is the second round. The Clippers should look for solid bench play and rest here.
Prediction: Clippers sweep. LAC is too much, too soon. Luka and Kristaps will be a fun watch, but I think they're too young to shock the world here.
3) Denver vs 6) Utah
Division rivals meet in the first round, as the Nuggets look to prove themselves worthy be in the conversation with the Clippers as top contenders next to the Lakers. Denver swept the season series against the Jazz, but they won by a combined eight points.
Nikola Jokic dropped 28 points to help Denver beat Utah in the first meeting. Despite being short-handed, four of the five starters scored in double figures. Utah was led by Jordan Clarkston, who scored 37 points off the bench. Donovan Mitchell struggled that night, shooting only 1-12.
If Utah wants a chance to win here, they'll need to take advantage of mismatches in the post. That's where Defensive Player Of The Year candidate Rudy Gobert comes in. Gobert averaged just under 20 points and 13 rebounds against Denver in the regular season. Denver is more of a finesse than power team. The Jazz should take advantage of their power in the post, although Jokic's game makes it a tough challenge.
Donovan Mitchell will need to have performances similar to what he had in the bubble against Denver. He scored 35 in Utah's overtime loss against Denver. With Mike Conley out with the birth of his son, there could be more on his plate in the backcourt
While Jokic clearly leads Denver, he isn't the only star. Jamal Murray showed up big in the OT win, scoring 23 points. He'll be instrumental in guiding Denver against the dangerous Mitchell and stopping him or at least containing him. If he can get going early the way he did in the teams' second meeting, lookout.
X-Factors:
Utah: Will Joe Ingles hold down the fort until Conley returns? His scoring has to fill that huge hole with Conley. What role will he play when Conley does comeback? This will be key, especially if Mitchell is inconsistent.
Denver: Murray and Jokic provide offensive firepower for Denver. But what about the low post? Paul Millsap needs to make a statement ASAP. Michael Porter Jr. is a strong presence as well. If they can come up big, this lines up as a Denver win.
Prediction: Denver in 6.
With Conley out, I expect Utah to struggle early. They'll bounce back with strong performances by Mitchell and Gobert. But Jokic, Murray and possibly Millsap and Porter should overwhelm the Jazz.
4) Houston vs 5) Oklahoma City
Russell Westbrook and James Harden square off against their former team in OKC. Harden led the league in scoring at 34.3 points a game. He teamed up with Westbrook to create a devastating 1-2 punch in the backcourt. In their first meeting this season, Westbrook was an assist shy of a triple-double and Harden exploded for 40. Big men Clint Capela and P.J. Tucker combined for 32 points and 16 rebounds.
Former Rockets-turned Oklahoma City point guard Chris Paul has led the Thunder as one of the feel-good stories of the season. What should've been a rebuild is now a strong return to the Playoffs for OKC. But is it enough to challenge Westbrook and Harden into deep waters?
Harden and Westbrook are the nonstop engines that charge Houston. They'll face off not only against Paul but also Shai Gilgeous Alexander. Alexander averaged 18.3 points against Houston in the regular season. Harden may matchup against Gilgeous-Alexander, with occasional switches to Paul. Harden 28.7 points against OKC, but was dismal shooting. He averaged 15.7 from deep against Oklahoma City and shot less than 35 percent overall.
Westbrook didn't fare better than Harden from three, but was more efficient his teammate from the floor against the Thunder, at nearly 60 percent. Houston will need that efficiency to stave off a dangerous and hungry Thunder team.
Oklahoma City didn't just bring Paul alone to die a slow basketball death. He's surrounded by a solid big man in Steven Adams and young talent like Alexander. Adams, however, struggled to make an impact in either game against Houston. Paul was outstanding, averaging just over 20 points and 45 percent shooting.
The question for OKC is: Can someone provide offensive firepower? Dennis Schroder can be inconsistent at times Adams has been non-existent against Houston. However, Schroder has over 20 points a game against Houston. He'll need to do it again for OKC to have a fight with them in the Playoffs.
X-Factors:
OKC: Can the Thunder overcome youth to stun what could be a Western Conference Finals team? How long will CP3 keep them in it? Performances from players not named Chris Paul are crucial.
Houston: The Rockets have to be careful not to overlook the Thunder. Who's the third scorer? Capela? Tucker? The answer could have ramifications in the second round.
Prediction: Rockets in 6.
CP3 puts up a spirited effort against his old team. But I don't see a second answer for Harden and Westbrook. I think Capela and Adams will cancel each other out. It's all about the guards here.
East:
1) Milwaukee vs 8) Orlando
The Bucks come in as the team to beat in the East. Orlando seems to be nothing more than a pushover, but is there something else that could challenge Milwaukee?
Giannis Antetokounmpo has had another MVP season: 29.5 points and 13.5 rebounds while leading the Bucks the league's best record. Antetokounmpo dropped 30 against Orlando in the first meeting. He averaged a shade over 26 points against the Magic this season.
Orlando is led by Nikola Vucevic. The Magic seemed to be overwhelmed with the Bucks, as most teams are. Vucevic still turned in an average of 18 points and 9.7 rebounds against Milwaukee.
Evan Fournier also came up big against the MVP and his squad. He averaged 20 points on 50 percent shooting for Orlando. Terrence Ross also played a key role.
X-Factors:
Milwaukee should be worried about health and complacency here. They should be fine, barring a Disney miracle.
Orlando will need all hands on deck to sniff a chance at winning. Vucevic would need a monster performance from all of the starters, plus an Antetokounmpo crash. It won't happen.
Prediction: Bucks, 4-0.
2) Toronto vs 7) Brooklyn
Toronto and Brooklyn are one of two Atlantic Division matchups in the first round, with Boston and Philadelphia as the other.
Even without Kawhi Leonard, the Raptors have managed to still roar as one of the NBA's best. Pascal Siakam is averaging 22.9 points and 7.3 rebounds, his breakthrough to superstardom. Kyle Lowry remains the heart and soul of the franchise. Marc Gasol remains a key presence in the paint. He's averaging 17 points and 15 rebounds against the Nets this season.
Without Kyrie Irving and Kevin Durant, Brooklyn has leaned on Spencer Dinwiddie as the main man here. He averaged 20 points this season. But he opted out of the restart.
So without their three biggest stars, Caris Levert has managed to lead Brooklyn. He's averaging 25 points in the bubble. The Nets went 5-3 in the restart. Joe Harris is averaging 20 points in the bubble portion of the season.
Brooklyn scored 115 points in six of the eight games in Orlando. And Brooklyn has blown up as an end of the season surprise.
"The team believes in Caris," Nets head coach Jacque Vaughn said. "This is an opportunity for him to show not only his teammates but the rest of the league the work he's put in and (get the) honors and achievements he deserves."
However, can Brooklyn find offense without Irving consistently enough to threaten the defending champions? I doubt it.
Toronto needs to get Lowry and Gasol going. Momentum is crucial in order to return to the Eastern Conference Finals.
Prediction: Toronto wins 4-1
3) Boston vs 6) Philadelphia
The Celtics come into the first-round against a Sixer squad without Ben Simmons. Let's see how Boston works that to their advantage. In addition, how can Philadelphia look to their perimeter play – or low post- to make up for Simmons' absence?
Philly should be all about Joel Embiid. Embiid averaged 23 points and 11.6 rebounds in the regular season. He averaged 24.5 points against Boston in his two games against their division rivals. He'll need bigger performances to get Philadelphia in a fight against Boston.
But who is the second man to help Embiid? Josh Richardson? Al Horford? I get a feeling Richardson may need to step up big on both ends to keep this series close. Otherwise, Boston could run away with this series early.
For Boston, the core of Jayson Tatum, Kemba Walker, Jaylen Brown, and Gordon Hayward packs a punch that may overwhelm their rivals. Tatum averaged just 13 points a game against the Sixers, compared to 20 points a game on the season. He and Brown are quickly becoming a dynamic duo that should be a force for years to come. What offense can Hayward provide when Walker and Brown struggle? Hayward averaged 17.5 points on the season, but he may need more to help Boston in what should be a ferocious series.
X-Factors:
Philadelphia desperately needs offense from other players besides Joel Embiid. Shake Milton could be another key. But Josh Richardson will need to play like a superstar.
Boston will look to shore up the post on both ends. Stopping Embiid will be a challenge, but so will scoring in the paint. Al Horford's size doesn't help either.
Prediction: Boston wins 4-2
Losing Ben Simmons will hurt as this series goes on. Boston's guards will take advantage. I'm uncertain if Philadelphia has enough to keep up with Boston, even with a hot Embiid. I think Boston outlasts them in a hotly contested series.
Comments
comments