Notice
: Undefined offset: 1 in
/var/www/wp-content/themes/jnews/class/ContentTag.php
on line
86
Notice
: Undefined offset: 1 in
/var/www/wp-content/themes/jnews/class/ContentTag.php
on line
86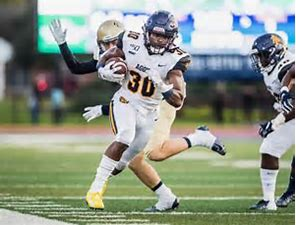 By Roscoe Nance,  For TheAfricanAmericanAthlete.com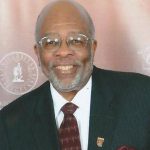 Paul Brown, the Pro Football Hall of Fame coach of the Cleveland Browns had a simple philosophy when Jim Brown, arguably the greatest running back in NFL history, was on his team.
Brown, who also doubled as the owner of the Browns, often said, "If you have a big gun shoot it.'' North Carolina A&T State coach Sam Washington heeded Brown's words Saturday in the Aggies' 27-21 come-from-behind non-conference road victory against Charleston Southern.
Washington took dead aim at the Buccaneers' defense with running back Jah-Maine Martin.
The 5-10, 203-pound redshirt junior rambled for a career-high 299 yards – the third-best single-game total in school history – and two touchdowns on 25 carries as the Aggies gained 292 net yards on the ground.
Only Maurice Hicks' games of 437 yards against Morgan State in 2001 and 353 against South Carolina State in 2000 surpass Martin's output against Charleston Southern.
"Our running backs coach (Shawn Gibbs) always tells us that running backs have to be the spark plugs of the offense," said Martin. "I put that in my head and said, 'Hey it's time to go for it.'"
Martin's first touchdown came on an 84-yard gallop that cut Charleston Southern's lead to 14-12 after the Buccaneers had built a 14-0 second-quarter advantage. Martin sprinted 76 yards to the end zone to give the Aggies a 27-14 lead and put the game out of reach with 5:27 left in the fourth quarter after Ruiz booted a pair of field goals that put North Carolina A&T ahead 20-14.
The two-time defending MEAC and Black College National Champions spotted Charleston Southern (0-3) a two-touchdown lead as the Buccaneers scored on a pair of long touchdown drives.
The first score came on a 33-yard touchdown pass from Jack Chambers to Kameron Brown with two minutes remaining in the first period. The score capped a six-play, 84-yard drive that consumed two minutes, 34 seconds.
The Aggies (2-1) appeared to be on the brink of losing for the second consecutive week when Charleston Southern drove 65 yards in eight plays to take a 14-0 lead with less than three gone in the second period. This time Chambers scored on a one-yard run.
North Carolina A&T came to life midway through the second period. Martin gave the Aggies a much-needed spark when he broke loose for a 30-yard gain for a first down at Charleston Southern's 12.
The Aggies were unable to punch the ball into the end zone, but Noel Ruiz got them on the scoreboard with a 31-yard field goal at the 5:56 mark. Ruiz added a 44-yard field goal as time expired in the second quarter to make the score 14-6.
Receiver Elijah Bell caught five passes for 77 yards to become No. 1 North Carolina A&T's career receiving yards list with 2,347. The Aggies' defense had a good day at the office, holding Charleston Southern to just 48 rushing yard, coming up with two interceptions.
HBCU ROUNDUP:
Jackson State 49, Tennessee State 44 – The Tigers relied on a punishing running attack to end a six-game losing streak to their rivals from Tennessee in the 30th Southern Heritage Classic in Memphis. Jackson State (1-2) ran for 338 yards while ringing up its highest point total ever in the series. The 49 points were the most for Jackson State in a win since its 59-0 victory against Virginia-Lynchburg in 2014. Jordan Johnson rushed for 141 yards for Jackson State and was voted the game's MVP. Tyson Alexander ran for 87 yards and a touchdown and Keshwan Harper added 71. Backup quarterback Cameron Rosendahl came off the bench in relief of Octavius Battle and threw for 384 yards and three touchdowns for Tennessee State (1-2). Steven Newbold had 10 catches for 196 yards and two touchdowns. Chris Rowland had a 96-yard kickoff return for the Big Blue that tied the score at 7-all in the first quarter. But Jackson State ran off 21 straight points. The lead grew to 42-23 before Tennessee State scored 21 fourth-quarter points to make the final margin respectable.
Hampton 41, Howard 20 – Florida State transfer quarterback Deondre Francois passed the Pirates to victory as these former MEAC rivals renewed hostilities in the 22nd Chicago Football Classic at Soldier Field. Francois threw for 217 yards and four touchdowns to earn Offensive MVP honors in the first meeting since Hampton (2-1) left the MEAC for the Big South Conference before the 2018 season. Hampton has won seven of the last 11 matchups and has a four-game winning streak in the series. Francois had touchdown passes of 70 yards to Darran Butts, 68 and five yards to Jadakis Bonds, and five yards to KeyRon Catlett. Butts set up Francois' five-yard touchdown pass to Bonds with a 90-yard kickoff return. Hampton's defense harassed Howard quarterback Caylin Newton throughout the game. The Pirates intercepted the reigning MEAC Offensive Player of the Year and the preseason pick to win the award again this season twice and sacked him four as the Bison (0-3) remained winless.
Arkansas-Pine Bluff 53, Langston 15 – The Golden Lions matched their win total of last season in their third contest as they rolled to a lopsided home victory. Quarterback Skyler Perry completed seven of nine passes for 189 yards and touchdowns while guiding Arkansas-Pine Bluff (2-1) to back-to-back victories for the first time since 2014. The Golden Lions upset Alabama A&M in Week 2. Wide receiver Harry Ballard had five catches for 147 yards and two touchdowns. Backup quarterback Shannon Patrick completed nine of 12 passes for 135 yards and a touchdown.
TOP PERFORMANCES
Jalen Morton, QB, Prairie View A&M – Completed 23 of 36 passes for 327 yards and three TDs in a 42-35 loss to Nicholls State.
Emanuel Wilson, RB, Johnson C. Smith – Ran 265 yards and three TDs in a 34-31 win against Benedict.
Deshaun Wethington, RB, Chowan – Ran for 194 yards and two TDs in a 70-16 win against Alderson Broaddus.
Wade Streeter, RB, Miles – Ran for 194 yards and two TDs in a 45-21 win against Morehouse.
Imeek Watson, WR, Chowan – Caught seven passes for 185 yards and five TDs in a 70-16 win against Alderson Broaddus.
Manasseh Bailey, WR, Morgan State – Caught four passes for 172 yards and one TD in a 63-12 loss to James Madison.
Taurean Taylor, RB, Tuskegee – Ran for 160 yards and one TD in a 13-7 win against Kentucky State.
Darius Hagan, RB, Virginia State – Ran for 134 yards and one TD in a 35-16 win against North Carolina Pembroke.
Charles Hall, WR, Virginia Union – Caught seven passes for 132 yards in a 28-11 loss to Lenoir Rhyne.
D'Angelo Durham, RB, Savannah State — Ran for 125 yards and two TDs in a 60-21 win against Virginia-Lynchburg.
Miles Broadnax, RB, Savannah State – Ran for 100 yards in a 60-21 win against Virginia-Lynchburg.
Jordan Bentley, RB, Alabama A&M – Ran for 124 yards and two TDs in a 31-24 win against North Alabama.
Marquis Gorham, WR, Shaw – Caught five passes for 126 yards and one TD in a 26-21 loss to Bowie State.
De'Mo Burroughs, WR, South Carolina State – Caught six passes for 108 yards and one TD in a 55-16 loss to South Florida.
Michael Green, WR, Albany State – Caught seven passes for 102 yards and two TDs in a 24-17 loss to Mississippi College.
David Manigo, WR, Florida A&M – Caught seven passes for 100 yards and one TD in a 57-20 win against Fort Valley State.
Keenan Blake, KR, Delaware State – Returned three punts for 88 yards, including a 57-yard touchdown return, and one kickoff for 61 yards in a 55-12 win against Lincoln (Pa.).
CIAA 
Bowie 26, Shaw 21
Lenior Rhyne University 28, Virginia Union 11
Mars Hill 46, St. Augustine's 14
Chowan 70, Alderson-Broaddus 16
Livingstone 27, Elizabeth City 16
Delaware State 58, Lincoln (PA) 12
Catawba 21, Winston-Salem 14
Johnson C. Smith 34, Benedict 31
Virginia State 35, N.C. Pembroke 16
Wingate 34, Fayetteville State 24
SIAC
Lane 29, Texas College 0
Tuskegee 13, Kentucky State 7
Allen 16, Clark-Atlanta 10
Savannah State 60, Va. Lynchburg 21
FAMU 57, Fort Valley 20
Miles 45, Morehouse 21
SW Baptist 38, Central State 3
Miss. College 24, Albany State 17
SWAC
Kennesaw State 42, Alabama State 7
Alabama A&M 31, North Alabama 24
Jackson State 49, Tenn. State 44
Nicholls St. 42, Prairie View 35
Southern 61, Edward Waters o
MEAC
FAMU 57, Fort Valley State 20
South Fla. 55, S.C. State 16
Gardner-Webb 21, N.C. Central 12
N.C.A&T 27, Charleston So. 21
Coastal Carolina 46, Norfolk State 7
Delaware State 58, Lincoln (Pa.) 12
James Madison 63, Morgan State 12
Miami 63, Bethune Cookman 0
Hampton 41, Howard 20
Comments
comments