Notice
: Undefined offset: 1 in
/var/www/wp-content/themes/jnews/class/ContentTag.php
on line
86
Notice
: Undefined offset: 1 in
/var/www/wp-content/themes/jnews/class/ContentTag.php
on line
86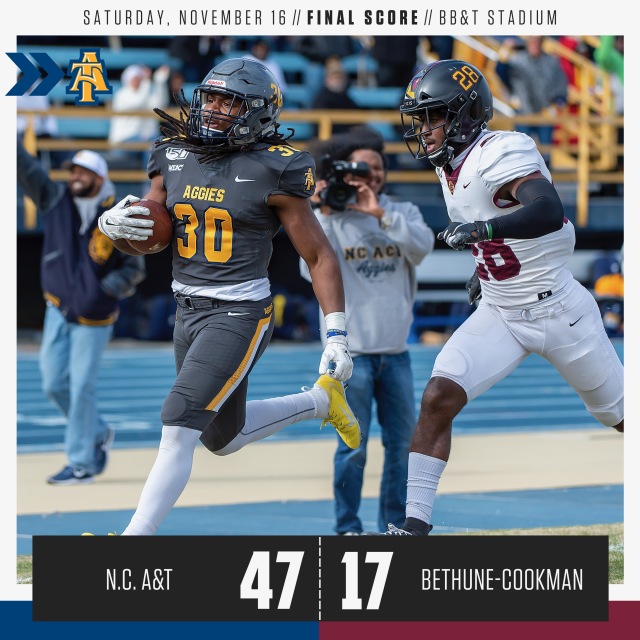 By Roscoe Nance, For TheAfricanAmericanAthlete.com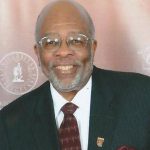 North Carolina A&T State, the two-time defending MEAC and Black College Football champion, leaned on its running game Saturday against Bethune-Cookman to take command in the MEAC championship race.
The Aggies (7-3, 5-2), coming off a loss to lowly Morgan State that threatened to derail their championship hopes, rushed for 300 yards on 50 running plays en route to a 47-17 home win. Running back Jah-Maine Martin led the Aggie with 120 yards on the ground with 120 yards and three touchdowns on 19 carries after being held to under 100 yards each of the last two games.
Martin's third touchdown on the day, a seven-yard romp through the middle of the Wildcats' defense earned him the single-season school rushing touchdowns record. It was his 19th rushing touchdown of the season, breaking Tarik Cohen's record of 18. That number also tied Cohen for the school's single-season record in total touchdowns.
"It's a great feeling but I'm still not satisfied," Martin said about breaking the record. "That's not enough for me. I set my expectations high. We're going to celebrate tonight, but tomorrow we're back to work
With the victory, the Aggies will wrap up the MEAC title and a berth in the Celebration Bowl in Atlanta against the SWAC champion on Dec. 21 by beating arch-rival North Carolina Central in the Aggie/Eagle Classic in the season finale.
If the Aggies lose to North Carolina Central and South Carolina State defeats, the Bulldogs will win the championship.
"In any ballgame, you're going to need determination and effort to win it," North Carolina A&T coach Sam Washington said. "We're going to need everyone's very best for that ballgame. That's the way we will approach it and that's the way we will go about it. This is a team game. We're all one team. We're all in."
Key Games
Bowie State 23, Fayetteville State 7 – The Bulldogs remained undefeated as they beat the Broncos and captured their second consecutive CIAA championship, Bowie State (11-0) is only unbeaten program among HBCUs and is ranked No, 11 in NCAA Division II. Quarterback Ja'Rome Johnson led the Bulldogs' offense with 127 yards rushing and touchdowns on 12 carries,
Miles 21, Albany State 6 – The Golden Bears stifled the Golden Rams to become the first program in the SIAC championship game era, Miles (9-2) set a school record for most wins in a season with the victory while becoming the first SIac school to win back to back titles since Tuskegee won consecutive titles from 2006-09. The conference championship game was started in 2011.
Miles has won four titles in that time span. Running back Donte Edwards led Miles with 105 yards and three touchdowns on 26 carries.
Alcorn State 34, Alabama A&M 28 – The Braves wrapped up their sixth consecutive SWAC East championship with a home victory. Quarterback Harper Felix led the Braves with 288 yards through the air and four touchdown passes. Three of Felix's scoring passes went to LeCharles Pring. Running back Niko Duffey chipped in with 100 rushing yards and a touchdown 17 carries. Running back Bentley Jordan rushed for a school-record 245 yards and four touchdowns in a losing effort for Alabama A&M.
Top Performances
DeAndre Harris, QB, Morgan State – Completed 11 of 17 passes for 317 yards and 5 TDs in a 59–26 against Virginia Lynchburg.
Keshawn Harper, RB, Jackson State – Rushed for 208 yards and 22 carries in a 40-34 loss to Southern.
Johnny Rembert, WR, Virginia Lynchburg – Caught five passes for 186 yards and two TDs in a 59-26 loss to Morgan State
Ladarius Skelton, QB Southern – Rushed for 171 yards and three TDs on 21 carries in a 40-34 win against Jackson State.
ThomasBertrand-Hudon, RB, Delaware State – Rushed for 137 yards and one TD on 25 carries in 33-17 loss to Norfolk State.
Jabriel Johnson, RB Morgan State – Rushed for 124 yards and one TD on 17 carries in a win 58-26 against Virginia Lynchburg.
Xavier Smith, WR, Florida A&M – Caught seven passes for 120 yards and one TD in a 39-7 win against Howard.
Josh Chase, RB, Morgan State – Rushed for 100 yards and 1 TD on 14 carries in a 59-26 win against Virginia Lynchburg.
CIAA
Bowie 23, Fayetteville State 7
SIAC
Miles 21, Albany State 6
MEAC
N.C.A&T 47, Bethune-Cookman 17
Morgan 59, Va.-Lynchburg 26
South Carolina State 24, North Carolina Central 0
FAMU 39, Howard 7
Norfolk St. 33, Delaware State 17
SWAC
Florida State 49, Alabama State 12
Grambling 40, Miss. Valley 0
Alcorn 34, Alabama A&M 28
Southern 40, Jackson St. 34
Prairie View 41, Edward Waters 14
Comments
comments