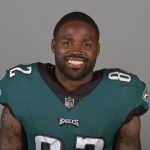 Every member of the Super Bowl champion Philadelphia Eagles football team _ black, white, and brown _ should listen to why their teammate Torrey Smith will not be visiting the White House, if the current racist president extends an invitation.
During an interview with CNN's Don Lemon shortly after the Super Bowl _  Smith, the Richmond, Va., native and seven-year veteran of the National Football League _ explains it's not that he doesn't respect the White House, he does not respect the man who currently lives there. Smith correctly states that beyond his politics, the current president simply lacks character and decency. 
"It's not just about politics," Smith said to Lemon. "If I told you that I was invited to a party by an individual that I believe is sexist or has no respect for women, or I told that you this individual has said offensive things towards many minority groups and I don't feel comfortable by it, this individual also called my peers and my friends SOBs, you would understand why I wouldn't want to go to that party."  When Smith, who now plays for the Carolina Panthers, heard about Trump's decision to cancel the visit on Monday he called his actions a 'cowardly act'.
Click to see the rest of the CNN interview.
Click to see more of Smith's interview on CNN
Comments
comments