Notice
: Undefined offset: 1 in
/var/www/wp-content/themes/jnews/class/ContentTag.php
on line
86
Notice
: Undefined offset: 1 in
/var/www/wp-content/themes/jnews/class/ContentTag.php
on line
86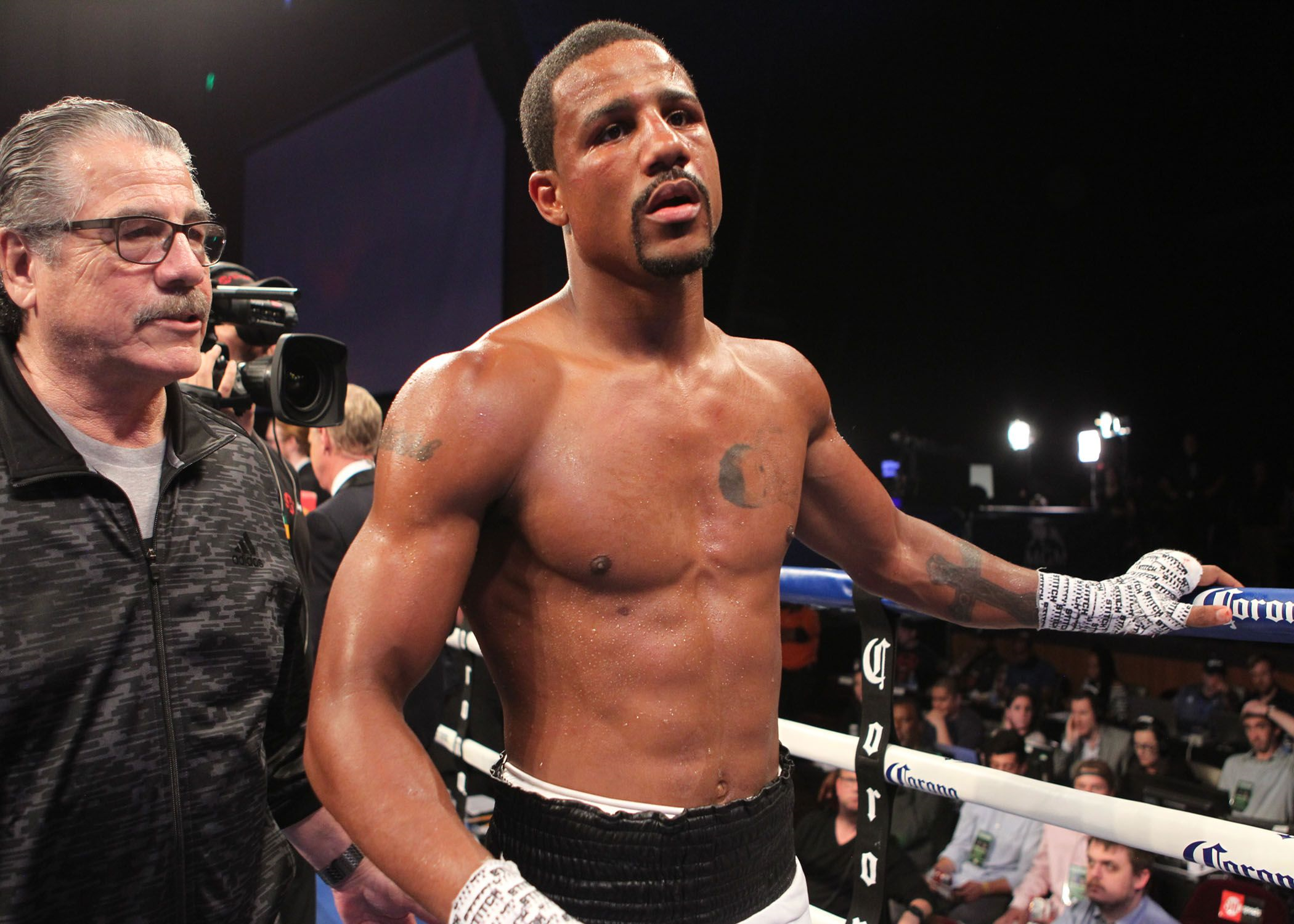 This column by the gifted young writer Eric Woodyard appeared in the Flint (MI) Journal following Saturday's controversial IBF super middle weight championship fight between Flint's Andre Dirrell, and Jose Uzcategui of Venezuela.
Dirrell won the fight by way of disqualification when he was hit after the bell by Uzcategui. An incident ensued following the fight that involved Dirrell's uncle, Leon Lawson Jr., who entered the ring and hit Uzcategui. Woodyard's column looks at why Lawson may have felt the need to punch Uzcategui. Is this how some black people protect their families? Was Lawson right or wrong?
 Woodyard's piece was so controversial that the paper pulled the story. The African-American Athlete obtained a copy of the story, and think it is important enough to share:
It's wrong, but Andre Dirrell's family reacted like most inner-city families
By Eric Woodyard 
If you're from the inner city of Flint, or any urban area for that matter, you know there's one golden rule when you're rolling out somewhere in public with family: If one fights, you all fight.
Right or wrong, these rules are embedded in you from day one. Point, blank, period.
And if you don't help, you don't want to be that one that has to come home and face the adults.
I'll put it like this, it won't be a pretty sight.
So, as I watched the post-fight shenanigans that occurred in Oxon Hill, Maryland, Saturday evening after Flint boxer Andre Dirrell's IBF super middleweight championship victory by way of disqualification, initially I felt embarrassed like the rest of the world.
Seeing his brothers, Anthony and Willie, being restrained near ringside then watching his uncle/trainer Leon Lawson Jr. enter the ring to clock Venezuelan boxer Jose Uzcategui with a cheap shot was totally unnecessary.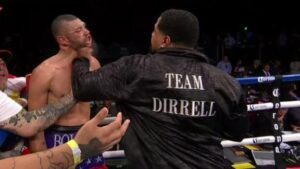 But then I sat back, thought about it and realized that they were just behaving like most tight-knit black families tend to do in the hood. We take care of our own and won't allow any disrespect — right or wrong. Family is all that we have.
Imagine seeing your nephew stretched out in the ring to end the eighth round as the result of a cheap shot for the second time in his career.
If you remember, this wasn't the first time that Dirrell has been socked with an illegal punch.
On March 27, 2010, Arthur Abraham was also disqualified for hitting Dirrell after he slipped on the canvas in the 11th round at Detroit's Joe Louis Arena, which caused neurological damage to the 2004 Olympic bronze medalist.
Rebounding from that trauma was definitely a setback as he experienced frequent light-headedness and dizziness. For a family as close as the Dirrells and Lawsons, that process was draining.
How do I know? I've been there. If you're ever around Andre Dirrell you will get to know his family and friends supporting him, starting with his grandfather Leon "Bumper" Lawson, who was Muhammad Ali's lifelong friend.
Then there's Lawson Jr.; brothers, Anthony and Willie; his mother, Lola; two-time Olympic gold medalist Claressa Shields; his sisters; aunties; cousins; nephews; friends; and of course his wife, Alaia; and their three children. They all roll deep like that and they are all feisty from the youngest to the oldest.
So, you must understand their family dynamic to recognize what happened after Saturday's championship bout.
To the world, Lawson may be viewed as a coward for catching Uzcategui off guard, but knowing the type of guy he is, I know he was simply trying to protect his nephew by getting street justice.
This was no different than when Floyd Mayweather's uncle/trainer, Roger, started a 10th round brawl by climbing into the ring to confront Zab Judah for a blatant low blow shot in 2006. Unfortunately, professional boxing isn't the place to bring those street ethics. You have to sustain some sort of professionalism and class being in their position in the face of adversity, which obviously didn't happen Saturday.
Lawson is currently wanted on two assault charges by Prince George's County Police for his sucker punch, per ESPN. We all saw what happened and there is no excuse for that sort of behavior, but if you're from where we're from you can relate.
Hell, even my own mom agreed that there's no way she could've witnessed me laid out on the canvas in a championship match after taking a foul shot without reacting similarly, but that doesn't make it right.
I'm not taking that stance because Lawson deserves to face the consequences for his actions.
It's unfortunate that Dirrell had to claim his first world title in such controversy, but put yourself in his family's shoes for one moment and ask yourself, "what would you do?" then maybe you can understand.
Comments
comments