Notice
: Undefined offset: 1 in
/var/www/wp-content/themes/jnews/class/ContentTag.php
on line
86
Notice
: Undefined offset: 1 in
/var/www/wp-content/themes/jnews/class/ContentTag.php
on line
86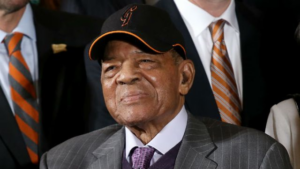 By Rickey Hampton, Editor and Founder of The African-American Athlete
(Editors note: An updated repost from last May.)
Willie Mays turns 87th birthday (May 6) on Sunday. But it is never too early to celebrate  arguably the greatest player in the history baseball.
Born in Westfield, Ala., Mays' uncanny abilities on the baseball field  lifted him out of depths of racial discrimination and oppression in Alabama, and took him to superstardom.
At 16, Mays went to play for the Birmingham Black Barons of the Negro League. He then signed with the New York/San Francisco Giants in 1951.
The rest is of legend.
There was absolutely nothing Mays could not do on a baseball field. The term 'Five-Tool'  player was created to describe Mays.  He could run, hit, hit with power, field, and he had a rocket arm.  He was Michael Jordan on a fast break, and Barry Sanders in the open field, and Usain Bolt headed down the home stretch.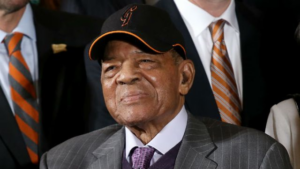 It is a tragedy that most of  his exploits aren't captured on tape. If he were playing in the majors today teams would not have enough money to pay him.
Nicknamed the 'Say Hey Kid', Mays did everything with  style, flair and elegance.  He patrolled center field the way an eagle patrols his hunting ground for prey, securing outs with his signature 'basket' catch. 
If  Willie Mays played in today's game his value would be so great that, really, the only way you could fairly compensate him is to give him part of the ownership.
In his 21-year career (1951 to 1973)  he finished with 660 home runs (the second most when he retired), 1903 RBIs, 338 stolen bases and a .302 batting average.  He was a 20 time all-star, and 10-time Golden Gloves winner.  And to think, he missed the 1952 and 1953 seasons because of military duty. 
"One thing I do that's fun for me in my job is I like to ask people in baseball who the best players they've ever seen," said Dave Dombrowski, the former Detroit Tigers' general manager. "Almost anyone who played in that era of the late '50s and '60s, every one of them says Willie Mays."

The only thing that exceeded Mays'  greatness on the field, was his humanity off of it.  He was a great ambassador for baseball, and more importantly, for African-Americans around the country.
One of the few glimpses of Mays' greatness on tape is his remarkable catch of  Vick Wertz' deep shot in Game 1 of  the 1954 World Series against Cleveland.  Mays' over the shoulder catch robbed Wertz of extra bases, and is considered one of the greatest defensive plays ever.  Amazingly, those who followed Mays' career say, for Mays it was pretty much a routine play. 
"I've seen him make 20 catches better than that one," said  Alvin Dark, who managed Mays in San Francisco, when asked about the play.
For more on Willie Mays check out the 'ESPN Sports Century' documentary.
Comments
comments