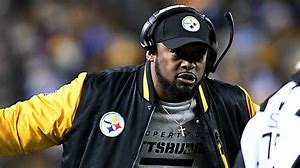 By Maury Jackson, For TheAfricanAmericanAthlete
The Pittsburgh Steelers have been nothing short of a drama this year, with running back Le'Veon Bell and the Steelers' front office being a big part of that.
Despite all of the drama, injuries, and media attention, the Steelers (8-5-1) find themselves at the top of the AFC North Division with a chance to still have some home-field advantage in the playoffs.
The Steelers 17-10 victory over the New England Patriots last weekend was a critical win for coach Mike Tomlin.  The Steelers' defense has continually been torched and critiqued so far this year. However, holding Tom Brady and the  Patriots to only 10 points in such an important game speaks to the coaching abilities of Tomlin to get his team ready for a playoff run. Of course, this is not new. Tomlin's teams are  
Coming off an AFC Championship appearance last year, the Steelers began the year 1-1-2. They also had a three-game losing streak that ended with their win over New England.
To be clear, there were definitely times throughout the season when Tomlin made some huge coaching errors. There have been weak spots and liabilities on the team that has caused Tomlin to be held accountable.
However, despite all of the drama and the missteps, the Steelers are a half-game in front of Baltimore (8-6) and their rookie QB, Lamar Jackson, and Tomlin is not getting enough love for it. He is a proven commodity during his 11 seasons, with two Super Bowl appearances, including a victory in Super Bowl XLIII. He began the 2018 season with a 116-60 record, eight playoff appearances, and six AFC titles.
The two most important ways to critique a coach are to hold them accountable during losses, and applaud them in times of winning important games and making critical decisions. Year after year, Tomlin has made the Steelers a Conference championship contender and does not get enough praise for it. Following the three-game losing streak, there were actually reports of him being on the hot seat.
If this were Belichick, Jon Gruden, or another major NFL coach, the media attention on them would be at an all-time high. Some current and former African-American coaches like Marvin Lewis were given more than enough opportunities to keep their job.
However,  it is no secret that many black coaches have been given a quick lease in the professional and collegiate ranks.
With Tomlin, this is a case of a black NFL coach not getting the applause and attention he deserves. Everyone looks at him as a good coach, but no one even mentions his name in the same circles as Belichick, Pete Carroll, or Andy Reid, despite being more consistent than most of them.
If the Steelers finish the year off strong and make another deep playoff run, it is time to start giving Mike Tomlin the praise he deserves.
Comments
comments