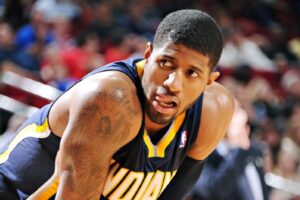 By Maury Jackson, For The African-American Athlete
As we approach this year's NBA draft, the top end of the draft is loaded with potential superstar talent. Markelle Fultz, Lonzo Ball, De'Aaron Fox, Jonathan Isaac, Jackson, Tatum, Monk, and Smith all headline this year's draft.
 However, two things that could perhaps be overshadowing the draft are NBA free agency and the future makeup of the NBA.
 NBA Commissioner Adam Silver said "Let's create more great teams" in his defense of the Golden State Warriors.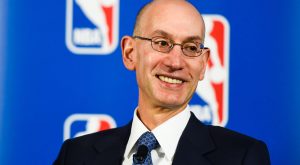 Silver showed support to this unbelievable team, and in essence encouraged more super teams in the league. Teams certainly took notice of Silver's comments. If they didn't hear Silver, they definitely took notice of the Warriors' domination.
 The way the league is set up, more and more 'potential superstars' are entering the league. Whether it is one-and-done freshman, players with multiple years of college experience, players from the D-league, or oversees, the league has an influx of young, prospering players.
 In essence, the league is being infused each year with a number of incoming players, making roster spots more competitive than ever. As a result, teams are now forming their rosters on the basis of two things: proven superstars, and young talented players who can potentially become superstars.
Paul George to the Lakers, Cavs, or Clippers? Jimmy Butler to the Cavs or Celtics,? Damian Lillard to Lakers or Jazz? Superstar players want to play for championship contending teams. And teams nowadays are certainly capable of signing multiple superstars. When young players with potential don't pan out, GMs are not hesitating to let them go. One case of this is D'Angelo Russell, who was traded from the Lakers to the Brooklyn Nets.
 D'Angelo Russell had a measly, yet satisfactory, two seasons with the Lakers as the No. 2 overall pick. Despite being prone to injury and the dismal records of the Lakers the past two years, he averaged a decent 14 pts and four assists over his first two years. In the Lakers eyes and in the direction modern NBA basketball is going, a lottery pick shooting 41 percent from the field and not contributing to more wins is prone to be replaced quickly.
 This is the blueprint for success in the eyes of most GMs in today's NBA: A scoring, explosive point guard, versatile, long and athletic wings, and big men who can catch alleys, or stretch the floor.
 That is exactly what this upcoming NBA draft class consist of. Both the Cavs and Warriors, for the most part, exhibited these qualities. The point guards, wings, and big men in this class also have the potential to exhibit these qualities.
 It is too early to tell who will flourish most from this draft class of talented prospects, yet many believe we will be looking at a draft class rivaling memorable classes from 2003, 1996, and 1984.
Comments
comments