By Rickey Hampton, Editor and Founder of  The African-American Athlete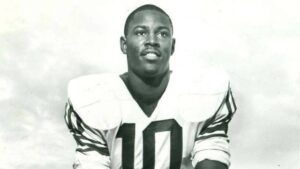 Two of the three quarterbacks selected in the first round of Thursday night's National Football League draft from Philadelphia were black.  That fact is no big deal, now. The emergence of the black quarterback in the NFL in recent years is to the point where the ethnicity of the player is no longer a big deal.
Fans want to know one thing. Can he lead their teams to victory? If  he can, he will stay. If he can't, he will go.
However, it hasn't always been that way. For years there was this sentiment that black athletes didn't have the mental capacity to play the quarterback position. Of course, that stereotype has been blown to hell. Black quarterbacks have set a standard of excellence at every level of football. 
But all of this had to start somewhere. In 1968 the Oakland Raiders selected Tennessee State University quarterback Eldridge Dickey in the first round. It was a historic selection. Dickey was the first black quarterback ever selected in the first round of a professional football draft.
Dickey was a spectacular talent, who was given the nickname "The Lord's Prayer. He had a rocket arm, and blazing speed. He could run, pass and was a great punter. What you see from Cam Newton today Dickey was doing 50-years ago. There was simply nothing he couldn't do on the football field.
Pro Football Hall of Famer Claude Humphrey, Dickey's teammate at TSU, called Dickey: 'The greatest football player I've ever seen."
Unfortunately, even though the Raiders selected Dickey in the first round, they didn't have much patience with him playing quarterback. They saw his explosive athletic ability and moved him to wide receiver. Although Dickey never got to show his skills as a quarterback, he is among the pioneers that led to play we see from that position today.
Linked is the telecast of the 1965 Grantland Rice Bowl, between the TSU Tigers and Ball State University. The game was a rare matchup between a Black College program and Ball State, a predominantly white university, located in Muncie, Indiana.
This video (linked below) is an opportunity to get a glimpse of TSU quarterback Eldridge Dickey (No.10), who many longtime TSU observers still consider the greatest player in the history of the program.  Although this was not one of Dickey's best games, it is clear you could see the sophomore was a special talent.
Also playing on both the offensive and defensive line for TSU was Humphrey (No. 75), who would go on to become a Hall of Famer for the Atlanta Falcons. And those TSU fans who have heard of the legend, Nolan Smith (No. 1), will see the speedster in action. I will not spoil the outcome for you, just in case you may not know about this game. All I can say is stay tuned to the final moments. Check out the video of Dickey from the 1965 Grantland Rice Bowl, and his induction into the Black College Football Hall of Fame.
Comments
comments